On June 29, JICA held the first of a series of online seminars (four sessions planned in total) intended to share Japan's knowledge and experience in post-disaster waste management with Ukraine, which is currently facing difficulty in dealing with the large volume of destruction waste *1 that has resulted from Russia's military invasion.

JICA has been providing assistance to Ukraine to help improve its capacity to dispose of urban waste, a growing issue owing to the country's post-independence economic growth, since 2018. A survey was first conducted that year to ascertain the current situation, with waste management experts later dispatched from 2020 onwards. The June 29 seminar was also held as part of these aid efforts.

Speaking at the seminar were officials from Ukraine's Ministry of Communities and Territories Development and Ministry of Environmental Protection and Natural Resources, while from the Japan side were officials from JICA, Nippon Koei Co., Ltd., the Japan Environmental Sanitation Center, and Higashi Matsushima City in Miyagi Prefecture, which suffered tremendous damage in the Great East Japan Earthquake. The seminar was also joined by over 120 other attendees, including city and oblast *2 representatives from Kyiv, Kharkiv, Dnipro.

The Japan side first provided an overview of how the country disposed of waste following the Great East Japan Earthquake, explaining its sorting methods and temporary storage arrangements. The Ukraine side then gave a report on the status of destruction-waste generation and disposal in each region, explaining their current difficulties in disposing of destruction waste while the destruction is still ongoing. The seminar enabled a deeper mutual understanding of both Japan's experience and Ukraine's current circumstances and challenges. The Ukraine side asked numerous questions during the Q&A session, including on the use of temporary waste-storage arrangements during times of disaster, which reaffirmed the country's great need for information on destruction-waste disposal. The subsequent seminars are scheduled to concentrate on the knowledge and experience of Japan's central and local governmental bodies, relevant specialized institutions, and private companies based on the Ukraine side's particular concerns.

Ukraine's Deputy Minister of Environmental Protection and Natural Resources, Yevhen Fedorenko, expressed words of gratitude, saying, "I would like to thank JICA for the timely seminar and for their continued support. Once the war has ended, we are sure to recover. I am confident that Japan's knowledge and experience will be of great use to us. "At the end of the event when a commemorative virtual photo was taken, officials from the Higashi Matsushima City held up a message written in Ukrainian that said, "We pray that peace will return to Ukraine as soon as possible."

The three subsequent seminars are scheduled to be held through October of this year.


*1: In Ukraine, waste such as debris that arises from war is referred to as "destruction waste."

*2: An administrative division or region in Russia and in some constituent republics of the former Soviet Union. In many countries, these divisions are referred to as states or provinces.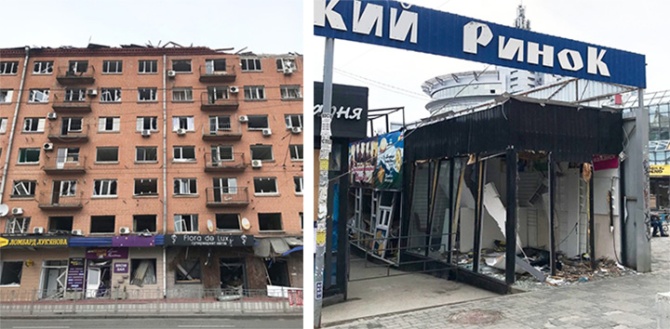 Buildings in Kyiv destroyed by Russian attacks.