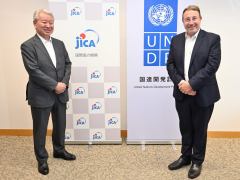 President Tanaka (left) and Administrator Steiner (courtesy by UNDP Representation Office in Tokyo)
On July 13th, JICA President TANAKA Akihiko met with UNDP Administrator Achim Steiner in Tokyo.

President Tanaka and Mr. Steiner praised the successful launch of UNDP/JICA Special Forum "Human Security and Africa's Challenges: Towards TICAD 8" hosted by the Nihon Keizai Shimbun, and exchanged views on the importance of further strengthening the organizations' partnership to promote human security.

President Tanaka underscored the value of human security, especially considering today's multiple crises of global energy, food security, and inflation, as a concept through which to understand interlinked multiple threats from the perspective of people, as well as to achieve the Sustainable Development Goals (SDGs). Mr. Steiner noted the potential of digital transformation both as a catalyst for and an inhibitor of human security, and shared UNDP's plans to utilize digital technology and data in its projects while also ensuring an ecosystem of safety and equity.

Mr. Steiner also outlined UNDP's efforts to achieve the SDGs, including private investment promotion, climate change actions, and support of the energy transition toward a carbon neutral society. Both sides expressed their desire to deepen their cooperation and confirmed they would work closely in the lead up to TICAD 8 in August.