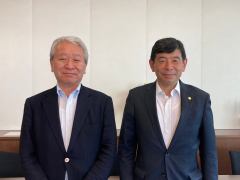 President Tanaka (left) and Mr. Mikuriya
On August 2, JICA President TANAKA Akihiko met with Secretary General of the World Customs Organization (WCO) MIKURIYA Kunio at JICA Headquarters.

President Tanaka and Secretary General Mikuriya exchanged views on the Joint Project of JICA-WCO Collaboration, the environment surrounding international trade, and the importance of support for customs administrations.

Both parties also touched on the importance of human resource development, including the Master Trainer Programme (MTP) for training customs officers in Africa and Pacific Islands, which is being implemented based on a Memorandum of Cooperation (MOC) signed by the two organizations in 2015, and affirmed that they will continue their close collaboration.