Tokyo International Conference on African Development (TICAD), is an international conference on the theme of development in Africa. The first conference (TICAD 1) was held in 1993 under the leadership of the Japanese government. Since then, TICAD has been organized in collaboration with the United Nations, the United Nations Development Programme (UNDP), the African Union Commission (AUC), and the World Bank.

This side event was held online on August 23, 2022, ahead of the 8th TICAD (TICAD 8), which was hosted by the Republic of Tunisia on August 27-28, 2022.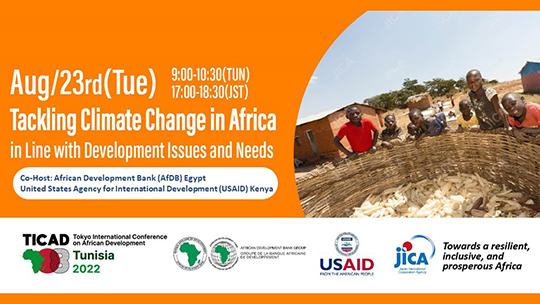 Overview of the Side Event
Event title: Tackling Climate Change in Africa in Line with Development Issues and Needs
Date: 23rd August 2022 17:00-18:30 (JST)
Form of event: Online
Number of participants: 172
Organizer: Japan International Cooperation Agency (JICA)

Increasing temperatures and sea levels, changing precipitation patterns and more extreme weather events caused by climate change are having a growing impact on the African continent, hitting the most vulnerable hardest, and contributing to food insecurity, population displacement and stress on water resources.

JICA's strategies for global development issues called Global Agenda for Climate Change (June 2021) has at its core to promote the implementation of the Paris Agreement, and the Co-Benefit approach to climate change mitigation and adaptation.

A side event titled Tackling Climate Change in Africa in Line with Development Issues and Needs aimed to discuss the Co-Benefit approach in African countries to achieve de-carbonization and a climate resilient society by highlighting JICA's interventions such as in the energy, forest conservation, and agriculture sectors.

During this side event, speakers presented the Co-Benefit approach as a realistic and effective way for African countries to achieve de-carbonization and climate resilient society in various sectors.

Specifically, presentations on a comprehensive approach to enhance institutional capacity for sustainable forest management in Kenya, strengthening capacity development for energy efficiency and conservation in Egypt, and on climate change adaptation of pastoralists through interventions in the agriculture sector in Kenya.

Following these presentations, representatives from the United States Agency for International Development (USAID), African Development Bank (AfDB), and JICA, presented their approach to climate change in African countries.

Details of each session is described below.
Opening Remarks
In his opening remarks, Dr. Eiji Iwasaki (Director General, Global Environment Department, JICA) acknowledge that the effects of climate change on the African continent are forecasted to be the most severe on earth, and that climate change is the leading crisis of our time and hence adopting climate adaptation measures will be critical for African countries. He also explained JICA's commitments on Climate Change.

Ms. Chihenyo Kangara (Regional Climate Change & Resilience Specialist, USAID Kenya) introduced USAID's activities with governments, private sectors, civil societies, and other international organizations to implement climate programs in Africa. She stated that USAID aims to encourage African governments to transform into climate resilient societies.
Sustainable Forest Management in Kenya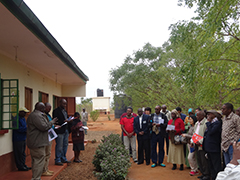 "Project on Development of Drought Tolerant Trees for Adaptation to Climate Change in Drylands of Kenya", Project site visits (Kitui, Kenya).
Mr. Alfred Gichu (Forest Conservation Secretary/National REDD+ Coordinator & Focal Point, Ministry of Environment and Forestry) presented that Kenya has been working with JICA towards the goal of "covering 10% of the country with forests", as set in the Constitution, by establishing a national reference level for REDD+, developing national forest monitoring system, and implementing pilot projects to establish a framework to achieve coexistence of forest conservation and sustainable development.

REDD+ is a framework created by the UNFCCC Conference of the Parties (COP) to guide activities in the forest sector that reduces emissions from deforestation and forest degradation, as well as the sustainable management of forests and the conservation and enhancement of forest carbon stocks in developing countries.
Energy Efficiency and Conservation in Egypt
Dr. Ahmed Mohamed Abdelhamid Mohina (Head Sector of Strategic Planning, Performance Follow up and International Cooperation, Ministry of Electricity and Renewable Energy) introduced current status of electricity supply and demand in Egypt and presented that they are working on large-scale renewable energy development and energy conservation to achieve the national goal of "42% of electricity supply from renewable energy sources by 2035, and 18% improvement in energy efficiency ".

Mr. Yasuhiro Sakamoto (PADECO Co., Ltd.) presented their technical cooperation project on "Capacity Development for Energy Efficiency and Conservation" in Egypt, where, in cooperation with four counterpart Ministries, namely Ministry of Electricity and Renewable Energy (MOERE), Ministry of Petroleum and Mineral Resources (MOP), Industrial Development Authority (IDA), Central Agency for Public Mobilization and Statistics (CAPMAS), the JICA team has been working to introduce new technologies and knowledge to promote energy efficiency and conservation through enhancing capacity of relevant entities and organizations in the areas of power, fuel, household, industry and data management.
Improvement of Food and Nutrition Security through Building Adaptive Capacity to Climate Change in Arid and Semi-Arid Lands (ASAL).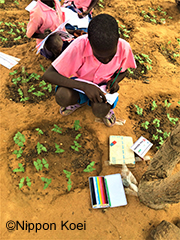 Pastoralist children writing observation
diary on their vegetable garden.
Dr. Monicah N. Kinuthia (Acting Director, Strategic Programmes Development, Ministry of Public Service, Gender, Senior Citizen Affairs and Special Programs, State Department for Development of the ASALs) presented that prolonged drought has made it difficult for pastoralists who make up 80% of the population in the ASAL region to sustain their nomadic lifestyle. It was highlighted that diversification of food source and livelihoods was essential to increase their resilience to climate change.

Mr. Fumiaki Murakami (Nippon Koei Co., Ltd.) presented on their "Agriculture Homework Diary" program, which is part of "Improvement of Food and Nutrition Security through Building Adaptive Capacity to Climate Change in Arid and Semi-Arid Lands in Kenya (IFNuS)" technical cooperation project. In this program, children who had participated in vegetable gardening in their school were given homework assignments to create a small vegetable garden at home during long vacations, observe it, and write a diary. This has resulted in an increase in children's vegetable intake and parents' desire to continue vegetable production and has been shown to be cost-effective in introducing and sustaining agriculture among pastoralists and hence resilience to climate change.
Development Partners' Climate Change Initiatives
Ms. Chihenyo Kangara (Regional Climate Change & Resilience Specialist, USAID Kenya) presented the USAID Climate Strategy 2022 - 2030 and the President's Emergency Plan for Adaptation and Resilience (PREPARE). She stated that USAID values the strategies and priorities of African countries and would like to work with them to become more resilient to the climate crisis, through among others strengthening adaptation measures.

Eng. Khaled El-Askari (Principal Energy Officer, AfDB, Egypt Country Office) presented the AfDB's Strategic Framework stating that AfDB is committed to mainstreaming climate change measures so that all projects contribute to either mitigation or adaptation and aims to allocate an equal share of climate funds to mitigation and adaptation measures. AfDB has coordinated with JICA and the French Development Agency (AFD) to conduct technical assistance studies on electrification studies for the transportation sector, green hydrogen, phase-out of inefficient appliances, among others.

Mr. Akihiro Miyazaki (Director Office for Climate Change and Deputy Director General Environmental Management, Global Environment Department, JICA), acknowledged that the impacts of climate change are becoming more serious, and the situation is now being called a "climate crisis". He pointed out that in the future, it will be more important and necessary to promote a wide range of climate change measures for both mitigation and adaptation, and in particular, mainstreaming climate change measures in various development issues through the Co-Benefits approach. He also stated that while Africa has high needs in the field of adaptation, it also has vast tropical rainforests that serve as carbon sinks, and it is necessary to introduce sustainable climate change measures that take these characteristics into account.
Closing Remarks
Dr. Ali Abosena (The Egyptian Environmental Affairs Agency CEO and Minister of Environment's Assistant for Projects) expressed his expectation for further developing cooperation in areas such as education, electricity, and health, based on the bilateral agreement signed in 2016 between Japan and Egypt. He emphasized on the need to build resilience to climate change, as climate change has the potential to overturn the achievements of social infrastructure and other development efforts. He expressed Egypt's determination to develop its national climate change strategy and to play a leading role in combating climate change in the region. It was also noted that, as the host country of COP27, Egypt is keen to ensure the largest possible number of participants, including civil society organizations working in the environmental field, and to secure funding for sectors that are particularly vulnerable to climate change.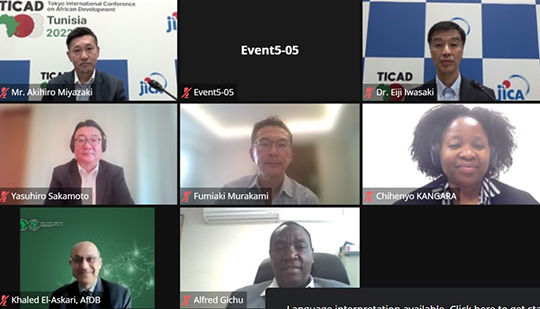 Speakers