On July 29th, Dr. Olena Burdo, a Ukrainian researcher from the Institute for Nuclear Research of the National Academy of Sciences of Ukraine visited Japan. In order to acquire the technology needed for an environmental impact assessment of Chornobyl after the nuclear disaster, Dr. Burdo will receive training at the Institute of Environmental Radioactivity at Fukushima University and other institutions for approximately four months until early December.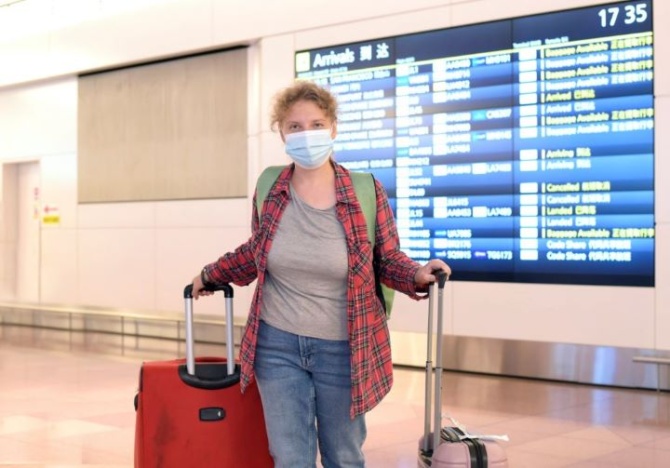 Dr. Burdo arriving at Haneda Airport.
It has been 36 years since the Chornobyl Nuclear Power Plant disaster occurred in 1986. The Ukrainian government plans to reorganize the Exclusion Zone, where environmental and ecological changes are expected due to the drop in the water level of the cooling pond (the cooling water supply area for the nuclear plant). Towards the reorganization continuous monitoring of radioactive materials is necessary.

Since 2008, JICA, in taskforce collaboration with the Japan Science and Technology Agency (JST), has been implementing the Science and Technology Research Partnership for Sustainable Development (SATREPS) program to promote joint science and technology research with developing countries. Within the framework of this program, from April 2017 to March 2023, an international joint research project is being conducted by Fukushima University and administrative and research institutions of Ukraine. The project is supporting research on technologies that will enable the continuous monitoring of radioactive materials for the reorganization and utilization of the Exclusion Zone in Chornobyl. Dr. Burdo's training is also a part of this project. Due to the invasion of Ukraine by Russia, the research environment in Ukraine has deteriorated, hence why the technical training was moved to Japan. Research equipment will also be provided to Ukrainian research institutes that have been severely damaged.

Dr. Burdo studies the effects of radiation on wildlife, especially rodents such as mice. The training will show her how to use the latest equipment and methods of chromosome analysis at Fukushima University and other universities in Japan, helping her acquire techniques for the continuous assessment of radiation effects on wildlife in Ukraine. She will also learn about decontamination and reconstruction efforts at the Fukushima Daiichi Nuclear Power Plant and other affected areas in the prefecture, as well as the current state of radioactive contamination.

"I am delighted to have a training opportunity such as this. Although going to a new place can feel uncertain, many people have done a wonderful job preparing for this training. I expect I will have the best experience as a scientist. In order to make a contribution to Ukraine, I want to study the new method of chromosome painting technique to measure the effect of radiation in animals at the chromosomal level," says a smiling Dr.Burdo while being interviewed about her enthusiasm for the training upon her arrival at Haneda Airport.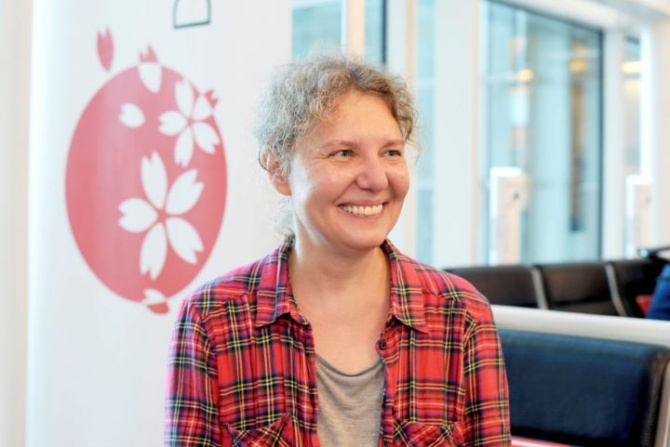 Dr. Burdo while being interviewed.