Overview
Date: September 15, 2022
Venue: National Institute of Diplomacy and International Relations (NIDIR) of the Ministry of Foreign Affairs and International Cooperation in Cambodia
Main Participants: Dr.Kitaoka Shinichi, Special Advisor to JICA President
H.E. Prof. Dr. Chhem Kieth Rethy, Minister Attached to the Prime Minister
H.E. Mr. Tean Samnang, President of NIDIR
Program
- Welcome Remarks by H.E. Prof. Dr. Chhem Kieth Rethy
- Opening Remarks by Ms. Kamei Haruko, Chief Representative of JICA in Cambodia
- Donation of JICA Chair Materials to NIDIR
- Lecture on "Meiji Restoration: Start of Full-Scale Modernization" by Dr. Kitaoka Shinichi
- Q&A session
- Closing Remarks by H.E. Mr. Tean Samnang, President of NIDIR

On September 15, 2022, Dr. Kitaoka delivered a JICA Chair special lecture at NIDIR in Cambodia. About 90 people, including senior officials of the Ministry of Foreign Affairs and International Developments and future diplomats, attended the event.

In Cambodia, JICA Chair (JICA Program for Japanese Studies) began in cooperation with the Royal University of Phnom Penh (RUPP) in late 2021. Owing to the reputation of the Program, and NIDIR has requested a series of JICA Chair lectures since this year. NIDIR is an institution which aims to build professionalism of Cambodian career diplomats through capacity development, therefore JICA expects that JICA Chair lectures will promote and deepen the Japanese Studies in Cambodia by gaining participants of these experienced diplomats.

In the beginning of the event, H.E. Prof. Dr. Chhem Kieth Rethy expressed a condolence message to late Former Prime Minister Abe Shinzo, then all the participants offered a minute of silent prayer. Dr. Kitaoka said that he was deeply impressed and thanked for such a warm friendship from the people of Cambodia.

At the lecture, Dr. Kitaoka explained that peace maintained over 200 years in Edo era enabled the development of culture and literacy education, and Meiji Revolution rests on a foundation of such developments. He emphasized that peace and stability is essential and a key to a nation's development.

In the Q&A session, participants proactively engaged in the discussion, asking questions such as "How did Japan attain the modernization in such a short period?" and "What are the facilitating factors for Japan to modernize the country while reserving its own culture at the same time?".

This special lecture was the first series of JICA Chair at NIDIR. JICA will continue to cooperate with NIDIR and promote Japanese Studies, in which Cambodian people will gain insights into their country's further development.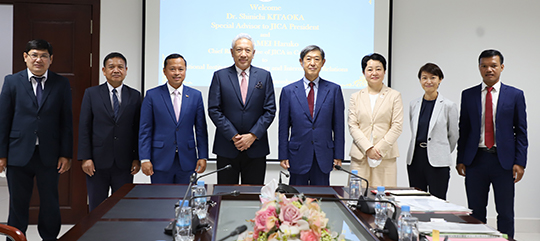 Center Left: H.E. Prof. Dr. Chhem Kieth Rethy, Center Right: Dr. Kitaoka Shinichi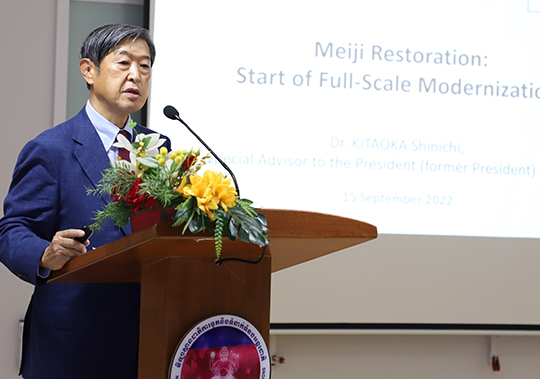 Dr. Kitaoka Lecturing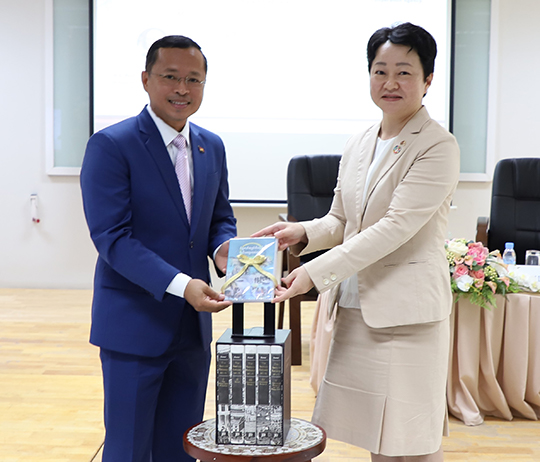 Donation of JICA Chair Materials to NIDIR
Center Left: H.E. Mr. Tean Samnang, Center Right: Ms. Kamei Haruko