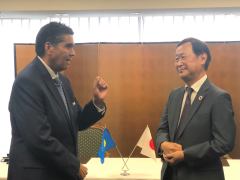 A scene from the meeting
JICA Executive Senior Vice President YAMADA Junichi met with President of the Republic of Palau Surangel S. Whipps, Jr. in Tokyo on September 8.

At the opening of the meeting, President Whipps introduced the "Memorandum of Understanding on strengthening friendly relations between the Republic of Palau and Okinawa Prefecture of Japan", which Palau signed with Okinawa Prefecture in August. He then stated his appreciation for Japan's high-quality ODA cooperation in Palau's socioeconomic and infrastructure development, as well as in the improvement of its healthcare sector, while also expressing his desire to continue to enhance the cooperative relationship between the two countries and receive many visitors from Japan.

In response, Executive Senior Vice President Yamada mentioned the activities of Japan Overseas Cooperation Volunteers (JOCV) in Palau and JICA's cooperation in infrastructure development. Additionally, he conveyed that Palau is an important partner for Japan in the Indo-Pacific region. He also expressed his intention to continue strengthening JICA's support for Palau's stability and development.