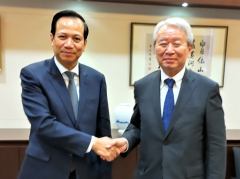 A scene from the meeting
On September 6, JICA President TANAKA Akihiko met with H.E. Dao Ngoc Dung, Minister of Labour, Invalids and Social Affairs of the Socialist Republic of Vietnam, at JICA headquarters.

President Tanaka referred to the revision of the Vietnamese law on overseas job-seeker dispatch and expressed his wish for the appropriate enforcement of this new law in Vietnam, which is the number one exporter of technical intern trainees to Japan. Furthermore, President Tanaka remarked that JICA will work proactively on their new technical cooperation project, which is to be implemented based on an agreement by the two governments, to promote overseas job opportunities through the strengthening of legal compliance initiatives.

In response, Minister Dung expressed his gratitude toward JICA for their cooperation and mentioned the importance of providing both accurate information for Vietnamese job seekers and job support after their return to Vietnam. Minister Dung also remarked upon the necessity of early commencement of the new JICA technical cooperation project. In addition, he commented that the training of these job seekers before they go to Japan is important in order to ensure their smooth employment once they arrive.

President Tanaka remarked that Vietnamese workers are important members of the Japanese economy and that they also contribute to the Vietnamese economy after their return to Vietnam. Both sides confirmed that the appropriate dispatch and acceptance of Vietnamese job seekers will play an important role in the socio-economy of both countries and will be mutually beneficial.