Overview
Date: September 16, 2022
Sponsor: JICA Alumni of Cambodia (JICA-AC) 
Venue: Cambodia-Japan Cooperation Center (CJCC)
Main Participants:
- Dr. Shinichi Kitaoka, Special Advisor to JICA President
- H.E. Dr. Chin Malin, Secretary of State of the Ministry of Justice, and President of JICA-AC
- H.E. Dr. Polinel Peouv, Secretary of State of the State Secretariat of Civil Aviation, and Vice President of JICA-AC
- H.E. Dr. CHET Chearly, Rector of Royal University of Phnom Penh (RUPP)
- Dr. OUM Ravy, Vice Rector of International Relations of RUPP
Program
- Welcome Remarks by H.E. Dr. Chet Chealy, Rector, RUPP
- Opening Remarks by H.E. Dr. Chin Malin, President of JICA-AC
- Lecture on "Recent developments of Japan's security and foreign policy and Southeast Asia" by Dr. Shinichi KITAOKA, Special Advisor to JICA President
- Questions and Comments from the Guests of Honor and Participants
- Words of Appreciation and Pledge prior to Study in Japan by FY2022 Representatives of JICA Scholars

On September 16, 2022, Dr. Kitaoka gave a JICA Chair special lecture at the Japan Alumni Special Forum, organized by JICA-AC. More than 80 people, who had experienced studying in Japan, participated in this event. Former participants of JICA long-term and short-term trainings established JICA-AC in 2012, and this time, JICA-AC invited Dr. Kitaoka as a special lecturer to the Forum.

In the beginning of the lecture, Dr. Kitaoka explained about a historical discourse of an interpretation of the Japanese Constitution Article 9. He also stressed that it was Cambodia for Japanese Self Defense Force to begin its participation in the United Nations Peace-keeping Operations (PKO) and this epoch expanded the role of peace building which Japan should take in global affairs. In addition, referring to examples of Cambodia, he emphasized that Japan always respects sovereignty and independence of its partner countries, and has cooperated in the field of peacekeeping, health, education and so forth. Finally, Dr. Kitaoka highlighted the significance of his idea of "Western Pacific Union," and encouraged the Forum participants to continue their intellectual exchanges internationally and build a global community of "public intellectuals" for free and open discussions.

Active discussions continued after the lecture. The participants asked about a wide range of questions, such as the security relationship between Cambodia and the United States of America, the difference between ASEAN and "Western Pacific Union," and what should be done for young administrative officers to reform domestic systems.

The alumni participants cherished their memories of studying in Japan, and those who will start their study in Japan from this autumn renewed expectations of their new life in Japan. Through JICA Chair lectures, JICA will encourage more people to gain insights into Japan's development experiences and strengthen a tie between Cambodia and Japan.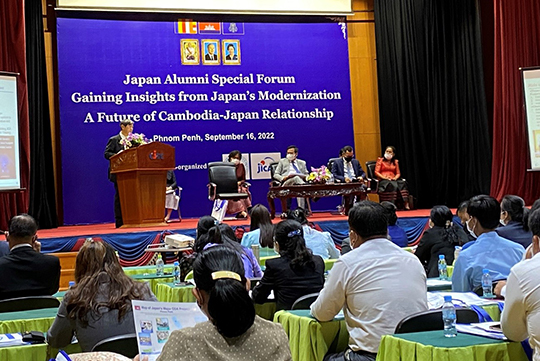 Dr. Kitaoka giving a lecture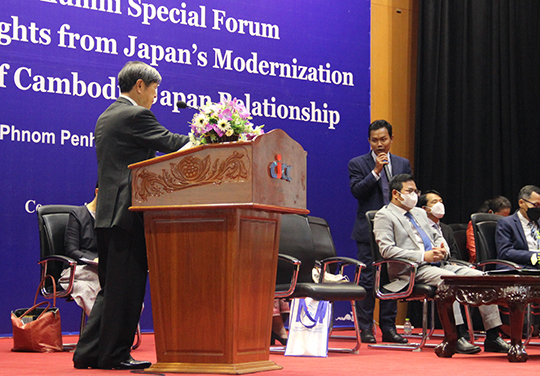 H.E. Dr. Polinel Peouv asking question (right)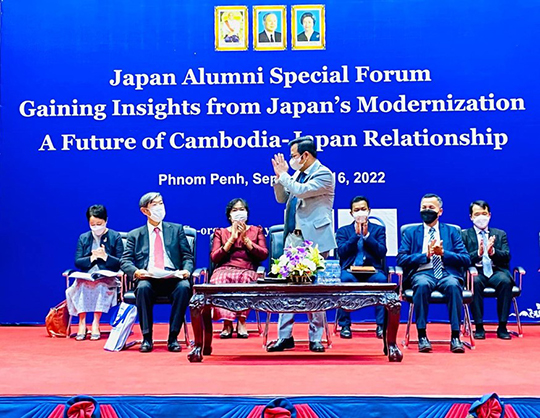 H.E. Dr. Chin Malin delivering opening remarks (middle)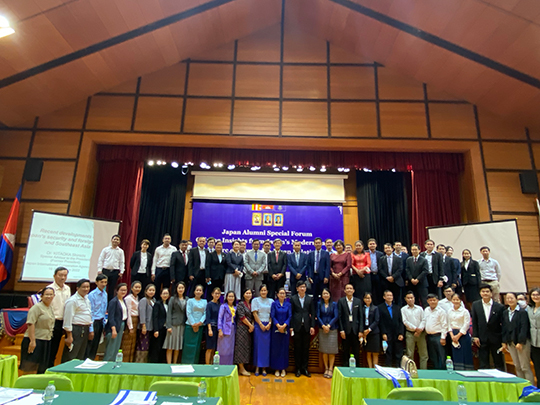 Participants of the Forum