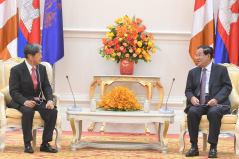 A scene from the meeting
On September 16, during his visit to the country, JICA Special Advisor to the President (former President) Kitaoka Shinichi held talks with Samdech Akka Moha Sena Padei Techo Hun Sen, Prime Minister of the Kingdom of Cambodia.

At the opening of the meeting, Dr. Kitaoka expressed his gratitude to Prime Minister Hun Sen for taking time out of his busy schedule and expressed his deep appreciation for the heartfelt condolences of Prime Minister Hun Sen and the people of Cambodia, who spent a day in mourning and produced a memorial short video following the passing of former Prime Minister of Japan Abe Shinzo.

Prime Minister Hun Sen commented on former Prime Minister Abe's relationship with Southeast Asia, and Cambodia in particular, and expressed gratitude for his great contribution to the strengthening of bilateral relations between Cambodia and Japan as well as to global peace and development. He also said that he would attend the state funeral of former Prime Minister Abe on September 27.

Prime Minister Hun Sen then went on to highly laud Japan's role in the peace negotiations in Cambodia and expressed his appreciation for Japan's contribution to peace and development in Cambodia, which has included five visits by prime ministers since Prime Minister Obuchi Keizo's visit in 2000. While noting specific projects such as the Project for the Improvement of the National Road No.1, the Project for Construction of Neak Loeung Bridge, and the Project for Construction of a Bridge over the Mekong River, he also expressed his gratitude for JICA's cooperation.

Dr. Kitaoka introduced the "JICA Chair (JICA Program for Japanese studies)" with his special lecture, titled "Meiji Restoration: start of full-scale Modernization," which he delivered at the National Institute of Diplomacy and International Relations (NIDIR) on September 15. Also, he noted that the successful factors of the Meiji Restoration included Japan's strong recognition of the importance of peace and stability in national development at the time, and the fact that the most outstanding government officials and politicians were working on the most important and pressing issues of the nation. He additionally stated his hope that Japan's experience in modernization and postwar recovery and reconstruction can be used as a reference for Cambodia's further development.

Dr. Kitaoka also expressed his support for the Cambodian government's endorsement of the UN resolution condemning Russia's aggression against Ukraine, and stressed that in the current international situation, Japan needs to play a more proactive role in deepening solidarity with countries, especially those in Southeast Asia, that share fundamental values such as freedom and the rule of law.

In closing, Prime Minister Hun Sen expressed his gratitude for the provision of vaccines to Cambodia by the four countries of Japan, the U.S., Australia, and India, and expressed his expectations for the further strengthening of relations. The meeting covered a variety of topics and lasted well beyond the scheduled time.