Overview
Event name: Africa Kaizen Annual Conference 2022
Date: 4 - 5 October 2022
Sponsors: AUDA NEPAD, Government of Cameroon, and JICA
Location: Yaoundé, Cameroon
Moderators and panelists
The meeting was attended by about 250 participants from 20 countries, including participants via online.
Primary objectives and outcomes
The Africa Kaizen Initiative (AKI) is a 10-year initiative launched in 2017 by AUDA-NEPAD and JICA following the announcement of the Africa-wide promotion of the Kaizen Initiative at the 6th Tokyo International Conference on African Development (TICAD VI) in 2016.

Through discussions and networking among stakeholders, Africa Kaizen Annual Conference is held to share policy implications of implementing kaizen, findings and lessons learned in each country, deepen understanding of kaizen, and discuss future course of action. So far, the 6 Annual Conference have been implemented since the 2016.
Content of the discussions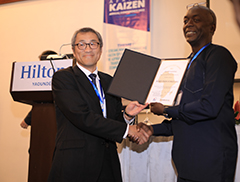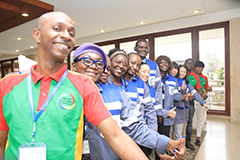 1. Progress of the AKI Action Plan and Report on Activities of Each Working Group (WG)
AKI has formed five working groups, and each group reported the results of their analysis of the current situation in order to develop certification guidelines, propose standard performance indicators, and formulate training curriculum etc, and confirmed that their activities are progressing according to the action plan.

2. Sharing good practices in Cameroon on kaizen
As a Kaizen model in Cameroon, it was shared that BDS is provided in collaboration with consultants from the private sector, that marketing and public relations activities are being actively undertaken, and that kaizen consultants are working on projects by other development partners such as UN agencies.

3. Panel Discussion by PAPA, AUDA-NEPAD, and JICA
A panel discussion was held among PAPA, AUDA-NEPAD, and JICA on the theme of "Policy implication of Kaizen/QPI on transforming
MSMEs thereby contributing to the establishment and strengthening of African Continental Free Trade Area (AfCFTA)". It was mentioned that further industrial development and trade promotion are important to promote AfCFTA and that ASEAN's efforts can be used as a reference. The importance of promoting international trade was also discussed.

4. The 4th Africa Kaizen Award
Eighteen companies from nine African countries applied for the awards, and based on the screening by the Examinationn Committee consisting of experts from Japan and abroad, the Outstanding Award in the large scale category went to a Tunisian company, and the Excellent Award to a Mauritius company. In the small and medium scale category, the Outstanding Award went to a Cameroonian company and the Excellent Award to a Kenyan company.

[Category] large scale
Award: OUTSTANDING / Company: PHOENIX MECANO ELCOM / Country:Tunisia
Award: EXCELLENT / Company: Archemics Ltd / Country:Mauritius

[Category] small and medium scale
Award: OUTSTANDING / Company: MAKO INDUSTRIES SA / Country:Cameroon
Award: EXCELLENT / Company: Kega Fashions Ltd / Country:Kenya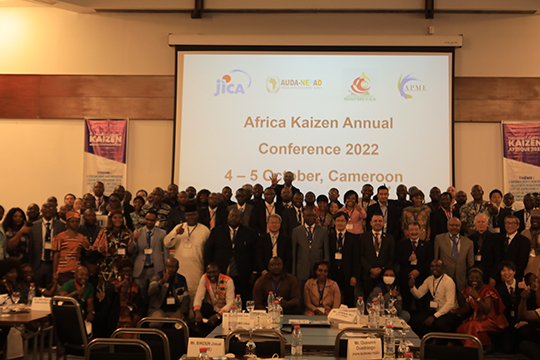 Day 1:
1) Brief review of the framework of AKI
2) Country reports by 4 haeds of AKI Ptential CoEs (Ethiopia,Mauritiau,South Africa,Tunisia)
3) Presentation on outputs by AKI-AP Working Gourps (WG1&3,2,5)
4) Presentation on How to create management mechanisims for AKAC (WG4)
Day 2:
1) Presentation on good practices of Kaizen in Cameroon (Cameroon model)
2) Online seminar on policy implication of Kaizen on AfCFTA
3) Awarding Ceremony of 2022