Overview
Event name: ABE Initiative Reporting and Welcoming Fair JFY2022
Date: September 11, 2022 (Sunday)
Organizer: JICA Egypt Office
Location: Online and On-site (Cairo, Egypt)
Moderators and panelists
Among the audience of the event, 5 ABE ex-participants and 16 of those scheduled to arrive in Japan this year as part of the ABE 9th batch joined along with related institutions from Egypt and Japan. In total, 41 participants joined the event.

Welcome Address and Brief Overview of ABE Initiative Egypt (by KATO Ken, Chief Representative of JICA Egypt Office)
Greetings (by SHIMIZU Kazuhiko, Councilor of the Embassy of Japan in Egypt)

Presentations
Career paths of ABE graduates (by Mohamed Reda SALEH
Consultation Manager and the Country Manager of Egypt, KAKEHASHI Africa)
Live Report (by Belal MAHDY, ABE 7th Batch)

Live Performance of Japanese Koto (by ONODERA Kento Dupity Director of the Japan Foundation, Cairo)
Orientation (by HIGUCHI Hajime and Sara NASR of the JICA Egypt Office)

Closing Remarks (by OKUBO Kyoko, Senior Representative of the JICA Egypt Office)
Primary objectives and outcomes
With the goal to cultivate "navigators" that support African businesses between African industrial human resources and Japanese companies, JICA implements the ABE Initiative (African Business Education Initiative for Youth), which is aimed at providing African youth opportunities for obtaining a Master's degree from Japanese universities and implementing internships in Japanese companies.

This event was held with the purpose of providing information to new ABE Initiative participants scheduled to depart from September, as well as building and strengthening the connections between ABE participants new and old, and related Egyptian and Japanese institutions. This event was held both in-person and online.
Content of the discussions
In Part 1, JICA Egypt Office provided the opening remarks together with an overview introducing JICA's projects in Egypt, as well as their efforts in the ABE Initiative. From there, the audience received an inspiring message from Councilor Kazuhiko Shimizu of the Embassy of Japan in Egypt. In addition, Kakehashi Africa (KA), a network created by ABE ex-participants, made a presentation in which the consultation manager shared his own experiences as an ABE ex-participant and provided an introduction of KA's activities. Among the presenters, a current ABE participant in Japan also joined from online and provided a report of his activities there while offering advice to the new students. Following this, the incoming ABE Initiative participants gave their own self-introductions. Through the exchanges, ABE Initiative participants were able to spend a meaningful time contributing to further enhancing their strong network among new and old students.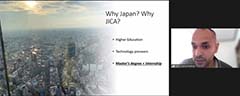 Presentation from a current ABE participant (Belal MAHDY, ABE 7th Batch)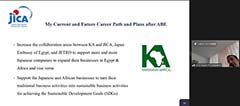 Presentation from Consultation Manager of Egypt, KAKEHASHI Africa (Mohamed Reda SALEH)
With the cooperation of the Japan Foundation, Cairo, a live performance of the Japanese koto, which is a traditional musical instrument of Japan, was held and was allowed audience members the opportunity to experience Japanese culture firsthand,following to input their Japanese language classes and other useful information for ABE participants.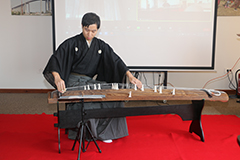 Live performance of the Japanese koto (Kento Onodera, Japan Foundation, Cairo)
(photo credit: JICA Egypt Office)
In Part 2 of the event, JICA Egypt Office held a pre-departure orientation for the incoming ABE Initiative participants scheduled to go to Japan this year. Continuing from Part 1, the new ABE Initiative participants joined and engaged in direct exchanges among their new cohort, allowing them to transcend affiliation and expertise. This event provided an opportunity to reaffirm one's self-role as an ABE participant, and renew one's mind for their new endeavor in Japan.

Group photo of the ABE Initiative Reporting and Welcoming Fair JFY2022
(photo credit: JICA Egypt Office)