Overview
Event name: Training in Jakarta, Indonesia for Vietnamese railway workers
Date: October 19,2022 - October 27,2022
Sponsors: JICA
Location: Jakarta, Indonesia
Moderators and panelists
Japan side: JICA, Tokyo Metro Co., Ltd.
Indonesia side: MRT Jakarta, etc
Vietnam side: Ho Chi Minh City Urban Railway Company Limited No.1(HURC1), Management Authority of Urban Railways(MAUR)
Primary objectives and outcomes
JICA is currently implementing the "The Project on Strengthening Management Ability of Operation and Maintenance Company for the Opening of Urban Railway Line 1 in Ho Chi Minh City" to support the Ho Chi Minh City Urban Railway Operator.

This project had planned to conduct training in Japan in FY2022, but at the preparatory stage, due to the global spread of the new coronavirus, entry restrictions to Japan were still strict and it was difficult to conduct the training in Japan. Therefore, with the cooperation of MRT Jakarta staff, a third-country training program was conducted in Jakarta, Indonesia.
Content of the discussions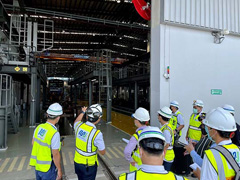 Training at MRT Jakarta depot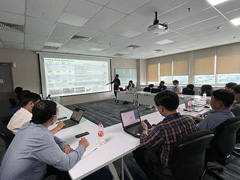 Training from MRT Jakarta
Eight(8) employees of HURC1 and six(6) employees of MAUR received training in Jakarta, Indonesia, on organizational structure, operation, and maintenance.

During the training, with the cooperation of MRT Jakarta, the operator of the Jakarta Urban Rapid Transit (MRT North-South Line) which has the experience to start their urban railway operation in 2019 supported by Japan, and other companies, the participants inspected MRT North-South Line facilities and experienced maintenance work at night.

In addition, the Vietnam side provided the Indonesia side with an overview of the Ho Chi Minh City Urban Railway Line 1, and the Japan side provided an overview of Tokyo Metro's training facilities, making the training mutually meaningful to the three (3) parties.

MRT Jakarta was very proactive in conducting the training, with Operation and Maintenance Director Effendi attending the opening ceremony of the training program and posting updates about the program on Instagram.

The implementation of this third country training program has allowed MRT Jakarta and HURC1/MAUR to build a new friendly relationship. With the help of the country that JICA had cooperated with earlier, we were able to realize the development of supporting the capacity building of urban railway in the third country.

We hope to continue to contribute to networking among the countries we have worked with until now.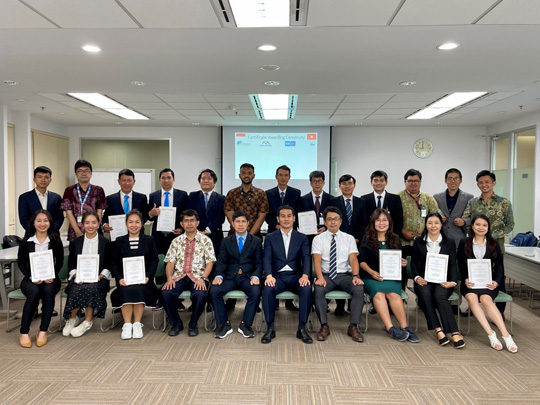 Training Completion Ceremony