The onset of the COVID-19 pandemic brought attention once again to the importance of handwashing. Washing one's hands is a simple and easy practice that is highly effective at preventing infectious diseases such as COVID-19. In many regions of the world, however, the prevention of these avoidable diseases is hindered by a lack of available facilities and opportunities to teach proper handwashing methods. JICA has been campaigning to promote proper handwashing in an effort to protect the public's health. Global Handwashing Day, which took place on October 15, is a good occasion for stressing the importance of handwashing.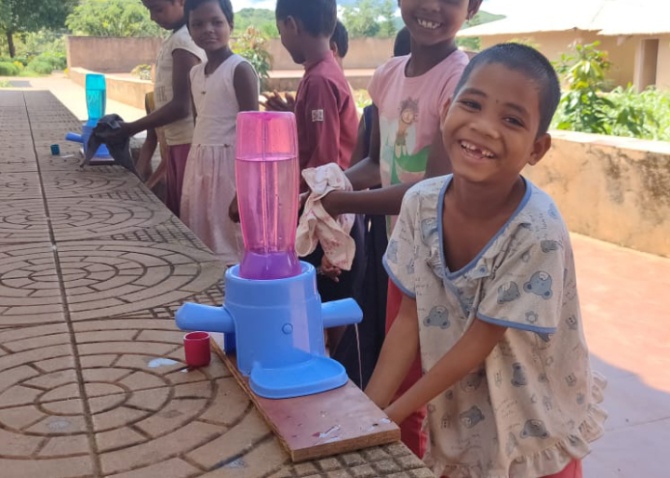 India was directly impacted by poor handwashing awareness during the COVID-19 pandemic
According to reports, only 36 percent of Indian people on average wash their hands before meals, a figure that drops to 25 percent in rural areas *1. Despite the people of the country's common habit of using their hands to eat, washing one's hands with soap is not a well-established practice. Of the 2.3 million deaths of children under the age of five in India, 13-14 percent die as a result of diarrhea, a common symptom of infectious diseases *2. Although people were aware of the pressing need for measures against infectious diseases, including the promotion of hygienic practices, COVID-19 has easily spread throughout the world in recent years. In India, the number of people infected with COVID-19 skyrocketed. At one point, the number of deaths exceeded 4,000 per day. It was another powerful reminder of the need to improve hygiene.

*1 National Sample Survey Organization (2018). 76th Round.
*2 Gupta et al. (2021). Why don't they do it? Handwashing barriers and influencer study in Faridabad district, India.
Good Habit campaign targets 100 million people
In 2021, JICA India launched the Achhi Aadat campaign. The initiative, which means "good habit" in Hindi, is a hygiene awareness campaign targeted at reaching 100 million people. The campaign was focused on the four pillars of proper handwashing, nail clipping, mask-wearing, and social distancing.

JICA India partnered with a local consultant and NGOs in holding hygiene-awareness activities called Achhi Aadat Sessions. These were held in cooperation with public organizations, schools, hospitals, and so on. The importance of proper handwashing habits, proper nail clipping, wearing masks correctly, and maintaining social distancing was promoted by distributing free hygiene products and educational materials and implementing hygiene awareness programs. The sessions, including online sessions, along with special events, TV, and social media outreach, were held in a total of 23 states and union territories, reaching 65 million people. The reach of these awareness-raising activities was multiplied several fold by the participants of the sessions when they also offered sessions at their schools, workplaces, and communities.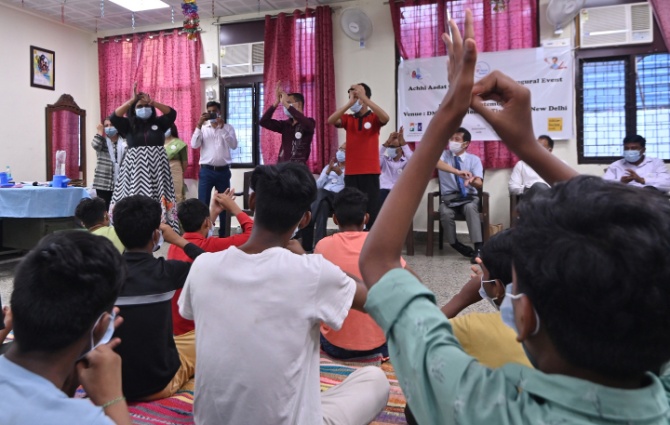 Handwashing demonstrations were held to promote the hygienic practice.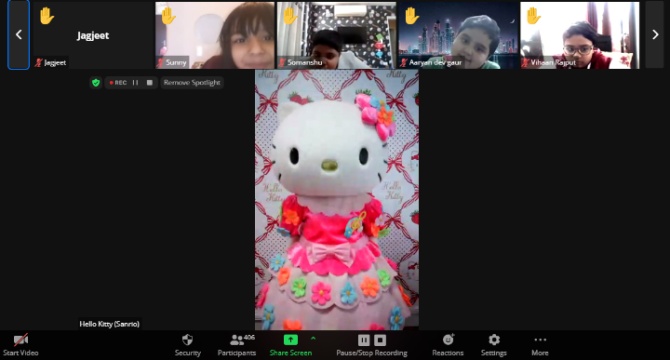 A popular cartoon character, Hello Kitty, appeared in online sessions to bring attention to proper handwashing practices.
Thanks to relationships established by JICA India with various stakeholders, the campaign was conducted smoothly and effectively. A total of 11 Japanese private companies with operations in India as well as Japanese local governments, such as the City of Yokohama and Kumamoto Prefecture, cooperated in the campaign. Donations from these companies included a portable handwashing station called Sato Tap, from LIXIL Corporation, nail clippers with a pick to remove dirt that accumulates on the back of the nails from Kai Corporation, and washable and reusable cloth masks from Ryohin Keikaku Co., Ltd. These were distributed free of charge at the Achhi Aadat Sessions.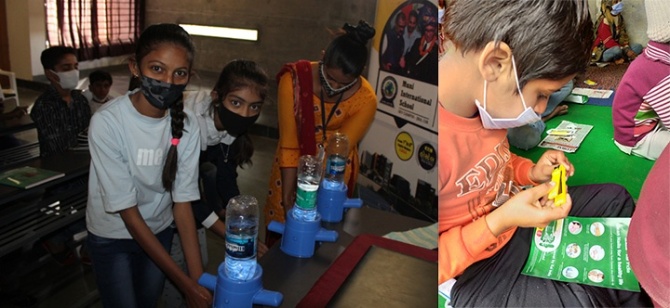 Session participants washing their hands at portable handwashing stations (left). Raising awareness of the proper way to trim fingernails (right).
Promoting proper handwashing through song and dance
Handwashing awareness videos made in collaboration with cartoon characters proved especially popular with children. In these videos, characters such as Hello Kitty and Kumamon sing and dance to a cheerful rhythm while stressing the importance of hygienic practices such as proper handwashing. The sessions were effective in raising awareness, using the Indian people's love of song and dance.

Sapna Kumari from Village Dhawaiya, District Hazaribagh, Jharkhand, participated in one of the sessions. "This was a one-of-a-kind experience for me," she says. "Before attending the sessions, I didn't practice proper handwashing. I was unaware of its importance, but now I can explain to everyone correct handwashing techniques."

The campaign was initially scheduled to last until March of this year. Due, in part, to the fact that COVID-19 is not yet under control, the campaign has been extended until March, 2023. For Global Handwashing Day this year, events such as handwashing demonstrations and rallies were held at seven locations in Delhi over a four-day period from October 11 to 14. Through continued activities such as these, JICA India hopes to reach 100 million people by establishing 'Good Habits' among the population.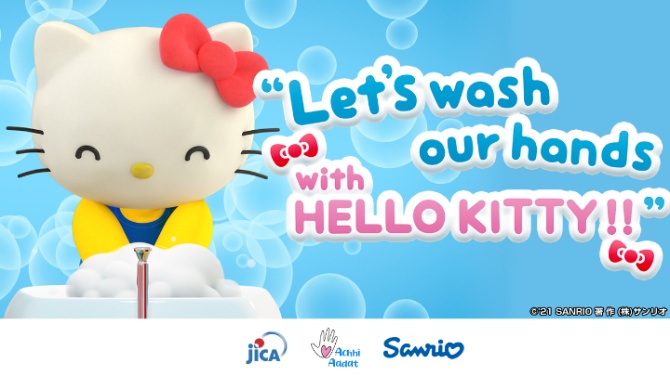 A handwashing awareness video featuring Hello Kitty was made in collaboration with Sanrio, and released on YouTube.
Promoting hygiene awareness in Niger, where childbirth is a high risk for women
A project to improve hygiene was undertaken in Niger, West Africa, from February to September this year. JICA and the World Health Organization (WHO) collaborated in this effort to improve the health of the country's women and children.

One of the major hygiene issues in Niger is the high risk associated with childbirth for women. In 2018, the maternal mortality rate was 509 per 100,000 live births. The frequency of early marriage, with one in four women marrying before the age of 15, results in a large number of women giving birth at a young age. This means the risks associated with childbirth tend to be higher than in other African countries. Although the infant mortality rate is decreasing each year, it still remains high at 48 per 1,000 live births in fiscal 2018. The reasons include poor hygiene, inadequate hygiene education, and the difficulty of accessing medical services. There is a clear need for immediate improvements in hygiene, including the prevention of infectious diseases.

In this JICA- and WHO-led project, 350 public health workers and community health workers selected from the local population were given training on improving maternal and pediatric health, and on the treatment and prevention of infectious diseases. Community health workers then conducted awareness-raising activities in their own communities, spreading the content of the training in a relay format.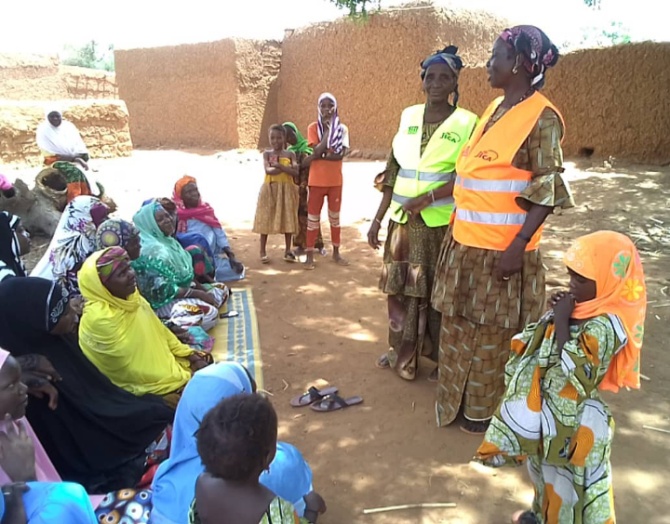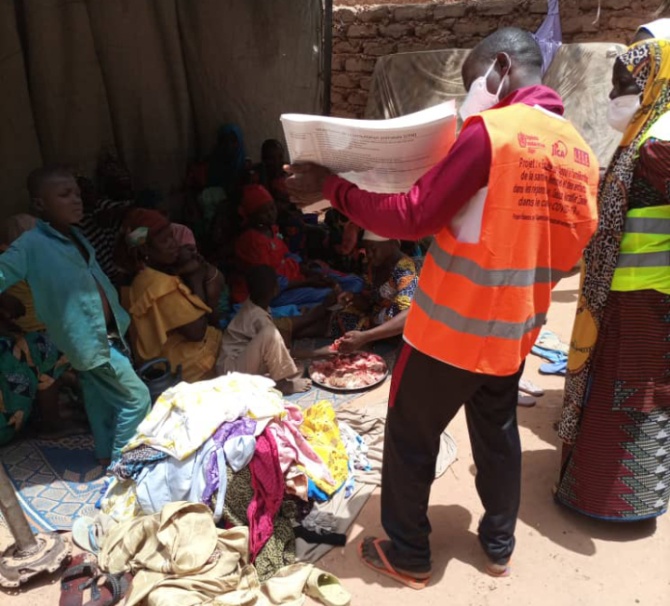 Scenes of the awareness-raising activities by community health workers
Reducing high-risk home births through teaching the importance of hygiene
Yamamoto Chikara works at JICA's Niger Office. "People are more trusting if an older person or someone they know explains things to them, rather than an outsider," he says. "Community health workers can deepen their understanding by sharing what they have learned with others. As they live in the area, we can expect them to continue these activities even after the project ends."

Increasing the awareness of proper handwashing practices was a key element of this project. In many villages, homes have no toilets. Even if they do, the large number of family members sharing the facility may force people to use other toilets nearby. Instead of toilet paper, they sometimes use leaves or wood, and in some cases, return to their daily routines without washing their hands. It is clear that handwashing is essential to protect the health of women and children against infectious diseases. During the training, residents were taught proper handwashing methods using portable water tanks, buckets, and soap.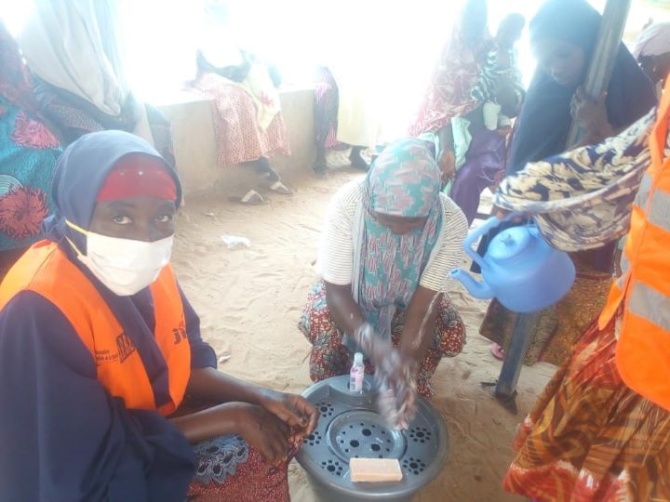 Village residents practicing proper handwashing methods.
The project taught many pregnant women and mothers of infants the importance of hygiene as a countermeasure against infectious diseases. This led to a significant increase in the number of people visiting the health center, and the number of high-risk home births decreased. JICA's Mr. Yamamoto says that this is the result of people's increased understanding of the importance of checkups at health centers before and after childbirth, as well as timely vaccinations. There has been a general improvement in children's health compared to other areas.

Mr. Yamamoto continues, "We have seen positive changes in the behavior of pregnant and nursing mothers and the health of their children even from short-term projects. We want to continue our efforts to protect as many lives as possible in collaboration with various actors, and hope to scale up our activities."

JICA "Handwashing for Health and Life Campaign" was held from 2020 to March 2022. It included 296 activities in 61 countries that educated approximately 300 million people about the importance of proper handwashing. JICA will continue to take part in various projects that save lives by raising awareness about the need for proper handwashing.