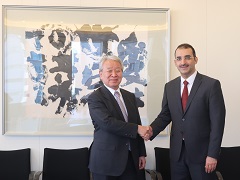 Scene from the meeting
JICA President Tanaka Akihiko held talks with the CEO of the Saudi Fund for Development Sultan bin Abdulrahman Al-Marshad at JICA Headquarters on October 21.

President Tanaka began the meeting by stating that JICA has always placed importance on working with development partners, including the Saudi Fund for Development, toward the achievement of the SDGs and that it would like to continue with its aim to maximize development impact through knowledge sharing and the implementation of cooperative projects.

In response, CEO Al-Marshad commented that going forward, one of the focuses of the Saudi Fund for Development will be technical cooperation, and thus the agency greatly appreciates the knowledge that can be gained from JICA's past cooperation and know-how achieved through personnel exchanges.

Furthermore, CEO Al-Marshad and President Tanaka discussed the need to emphasize and to take action in regard to three urgent issues facing the international community, namely food security, the energy crisis, and climate change.