Introduction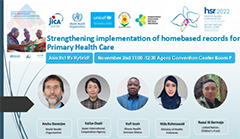 Home-based records have been used for maternal, newborn, and child health (MNCH) as a key element of health systems in over 160 countries. Yet, home-based records are not necessarily used optimally in some countries. At the 7th Global Symposium on Health Systems Research (HSR2022) on 2nd November 2022, where over 1,400 delegates attended from around the world, a hybrid organized session was held to discuss what and how home-based record-related challenges can be addressed for primary health care (PHC) and to announce an upcoming Guide on strengthening the implementation of home-based records (the Guide).
Panel presentations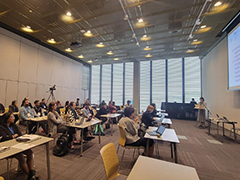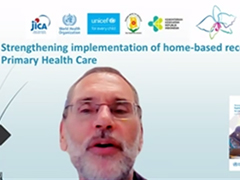 Dr. Anshu Banerjee of WHO set the scene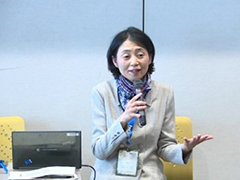 JICA Senior Advisor Keiko Osaki presented implementation challenges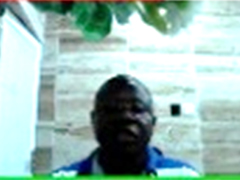 Dr. Kofi Issah, GHS shared experiences on introducing the MCH Record Book, the national combined HBR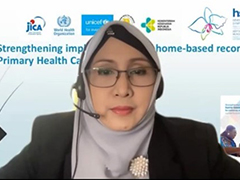 Dr. Nida Rohnawati, Indonesian MOH shared Indonesian experiences on strengthening the MCH Handbook implementation
Anshu Banerjee, the Director for the Department of Maternal, Newborn, Child and Adolescent Health and Ageing, World Health Organization (WHO) set the scene. WHO published a global recommendation on home-based records for maternal, newborn and child health in 2018, which indicated the importance of effective implementation of home-based records. Then, he pre-announced the release of the Guide, which was designed for national/subnational MNCH program managers, to accelerate the effective implementation of home-based records.

Keiko Osaki, Senior Advisor on Health of Japan International Cooperation Agency (JICA) presented implementation challenges. First, several types of challenges in home-based record implementations were commonly reported across low- to middle-income countries (LIMICs) including stock-out, sub-optimal recording practice by health workers, etc. Focusing on strengthening 8 success factors, i) high-level commitment, ii) coordination, iii) contents, iv) printing and distribution, v) budget and funding, vi) valued by health workers, vii) valued by mothers and caregivers, and viii) monitoring, can help a country to achieve optimal implementation and use. Second, to address those challenges, she suggested i) assessing implementation, ii) learning from good practices, and iii) keeping implementation monitored. She pointed out how the Guide could be used for the assessment of implementation processes of home-based records, and articulated the need for data for monitoring the implementation of home-based records.

Kofi Issah, Director of Family Health Division of Ghana Health Service (GHS) introduced the MCH Record Book, the national combined HBR, which replaced two home-based records, "Maternal Health Records" and "Child Health Records". To fill the gaps in MCH services with better coverage with quality, the MCH Record Book was designed with technical and financial support from JICA. The continuum of care requires links between health services to communities, through both the demand and supply sides of service delivery. Roles of the MCH Record Book is expected to be a tool to link all stakeholders in every kind of health service in PHC. In Ghana, actions have been taken to address implementation challenges and ensure sustainability. First, the management guide was developed to introduce rules and regulations related to the national rollout of the MCH Record book. Second, advocacy for continued and timely reproduction using approved processes by key stakeholders. Third, institutionalization for sustainable capacity strengthening through i) standardized training, ii) audiovisual learning materials for self-paced learning; and iii) monitoring and supportive supervision by different types of monitoring approaches at different levels. The MCH Record book has been largely successfully implemented in Ghana. Gradually, the government including the Ministry of Education has acknowledged the MCH Record book is to be a critical document for early childhood nurturing care programs, as a part of national records. The MCH Record Book could be a game changer in the coming Network of Practice strategy and service deliveries to be branded with PHC as well as health system strengthening.

Nida Rohnawati, Director of Under-5/Pre-school Health Division of Indonesian Ministry of Health (MOH) shared Indonesian experiences on strengthening the MCH Handbook implementation as an HBR in PHC. The MCH Handbook in Indonesia, which was adapted from the Japanese MCH Handbook, was implemented nationwide with the ministerial decree in 2004. According to the ministerial decree, the MCH Handbook is defined as a recording tool of health services owned by mothers and children under 5 years old. Its printing and distribution responsibility are of governments with private sectors. To make the MCH Handbook implemented for PHC, 1) professionals and private sector engagement, 2) national and subnational level responsibility as minimum service standard, and 3) family and community empowerment have been addressed. With the strategy to increase the engagement of professionals, not only pregnant women who visited public care facilities but also private care facilities have received the MCH Handbook. To increase local governments' commitments to use the MCH Handbook for MCH services, it has been gradually adapted for other services such as national health insurance, conditional cash transfers, and preschool entrance. In the latest version of the MCH Handbook, mothers/families are expected to use it for self-assessment of their health. To increase family's empowerment and involvement, supplementary materials and activities have been developed. Although Indonesia has been active to sharing experiences through knowledge-sharing programs, challenges remain. The MCH Handbook has an important role in the transformation of PHC in Indonesia, which is not only as a recording tool at the family level, but also educates the family to be able to be active in earlier detection of their health problems.
Key discussion points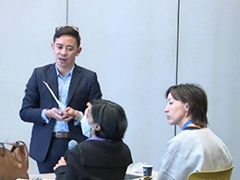 Dr. Raoul III Bermejo of UNICEF facilitated the discussion and concluded the session
The following points were discussed. First, the need for and the interests on implementation researches was articulated both by county representatives and researchers. Second, to make home-based records available, while putting it as a regular budget line item, countries shared several ideas, such as private sector engagement and funding by health insurance scheme. Third, completion of records by health workers is a commonly observed challenge. Close supportive supervision to generate positive health workers' attitudes for recording is critically important, while providing encouragement for recording (e.g. recording on summary pages is linked to health insurance reimbursement) as well as reducing burden for recording (e.g. use of digital technology). Fourth, researchers were expected to collect and analyze data from HBRs. Raoul III Bermejo of the United Nations Children's Fund (UNICEF) facilitated the discussion and concluded the session: i) HBRs would support MCH programing and the Guide would support effective implementation, ii) HBRs are symbols to strengthen and integrate every effort for PHC, and iii) beyond technical opportunities, HBRs would empower women, mothers, and caregivers by allowing them to have information at their hands.