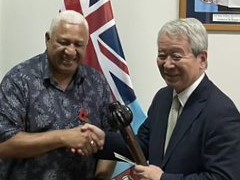 Meeting with Prime Minister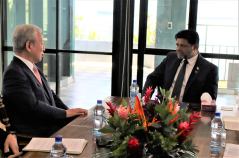 Meeting with Attorney General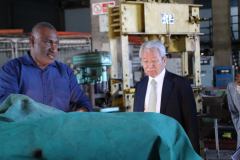 Site visit to Energy Fiji Limited Lautoka training Center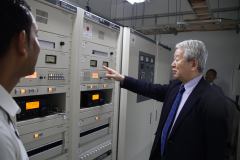 Site visit to Fijian Broadcasting Corporation (AM Radio Transmission Facilities)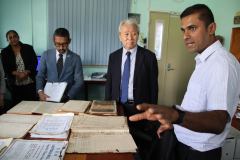 Site visit to Fiji Meteorological Service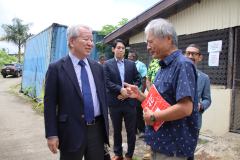 Site visit to Koronivia Research Station (JOCV activities)
From October 15 to 20, JICA President Tanaka Akihiko visited Fiji. During his stay, he met with Prime Minister Voreqe Bainimarama and Attorney General and Minister for Economy, Civil Service and Communications Aiyaz Sayed-Khaiyum, and made field visits to JICA support projects in Lautoka, Nadi, and Nausori.

Home to the offices of many regional and international organizations, Fiji plays a central role in regional cooperation and is frequently called upon to serve as a hub for resolving shared issues across the Pacific Island region. Fiji, as well as the wider region, experiences frequent natural disasters such as earthquakes, tsunamis, cyclones, and heavy rains, and there is a growing need for mitigation of and adaptation to climate change, which, in future, is feared to bring about further such natural disasters that will cause severe damage.

During his meeting with Prime Minister Bainimarama, President Tanaka said JICA would like to continue to support Fiji's role in the international community, in light of the country's leadership in resolving shared regional issues, and reaffirmed the further strengthening of Japan–Fiji relations through ODA. Prime Minister Bainimarama then appreciated past support, including JICA's cooperation during the COVID-19 pandemic, and hoped to continue fortifying bilateral ties to resolve shared issues, within not only Fiji but the region as a whole.

In his meeting with Attorney General Sayed-Khaiyum, President Tanaka discussed the importance of human resource development and future cooperation that combines multiple schemes. Attorney General Sayed-Khaiyum appreciated the Japanese ODA loans*1 given at times of natural disaster and during the pandemic, which have contributed greatly to Fiji's rapid economic recovery. He also hoped for stronger relations with Japanese corporations and the importance of both technical cooperation and JICA's Japan Overseas Cooperation Volunteers (JOCV).

The Fiji government is aiming to achieve 100% renewable energy by 2036 to mitigate climate change, and many Pacific Island countries are similarly looking to make the switch to renewable energy as soon as possible. To support this move, JICA is providing cooperation based on the experience of Japan's island areas. President Tanaka visited the training center for Energy Fiji Limited, where EFL trainers train electrical engineers for neighboring island countries in partnership with JICA, and he acknowledged the importance of active cooperation in the development of human resources in Pacific Island countries, with Fiji as a hub for regional cooperation.

He also observed cyclone monitoring and community training at the Fiji Meteorological Service as well as AM Radio, which functions effectively to transmit disaster information even to people on remote islands. He emphasized the importance of efforts based on Japan's experience of disaster prevention*2 to reduce disaster risks such as cyclones, heavy rains, and flooding. President Tanaka also visited a livestock rearing site, one of the first sites to resume dispatch of JOCV teams after suspension due to the COVID-19 pandemic.

JICA is dedicated to its ongoing efforts to resolve issues common to Fiji and the Pacific Island region.


*1 JICA provides the Stand-by Loan for Disaster Recovery and Rehabilitation and the COVID-19 Crisis Response Emergency Support Loan (Phases 1 and 2)


*2 Through JICA technical cooperation projects such as the Project for Promotion of Mainstreaming Disaster Risk Reduction and the Project for the Planning of the Nadi River Flood Control Structures, as well as grant aid projects such as the Project for the Rehabilitation of the Medium Wave Radio Transmission and the Project for Upgrading of Meteorological Observation and Forecasting System, JICA strengthens the capacity not only for disaster management policy formulation and administrative implementation, but also for observation and forecasting of the Fiji Meteorological Service and its role as a regional core meteorological center, as well as strengthening the capacity of the Seismology Observatory Unit, the National Fire Authority, and other working organizations. In addition, JICA also develops a flood response master plan.