On November 4, representatives of the Japan Overseas Cooperation Volunteers (JOCV) and a Youth Volunteer for Nikkei Communities (NJV) who have returned to Japan had the honor of talking informally with Their Majesties the Emperor and Empress of Japan at the Imperial Palace, reporting on their activities in the foreign countries where they served. This informal talk with returned volunteers has been a tradition of Their Majesties, since the launch of the volunteer initiative in 1965, that has continued to the present.

The volunteers who returned to Japan this time were affected by the global spread of COVID-19, having to return home temporarily. However, they were able to overcome this obstacle presented by the pandemic and complete their duties by conducting online support activities and capacity building during their waiting period in Japan and took advantage of these efforts when they returned to their dispatch countries once again.

On this occasion, two JOCV and one NJV returning from Asia, Africa and Latin America met with Their Majesties the Emperor and the Empress of Japan. Before this informal conversation, they met with JICA President Tanaka Akihiko at JICA headquarters in Chiyoda-ku, Tokyo.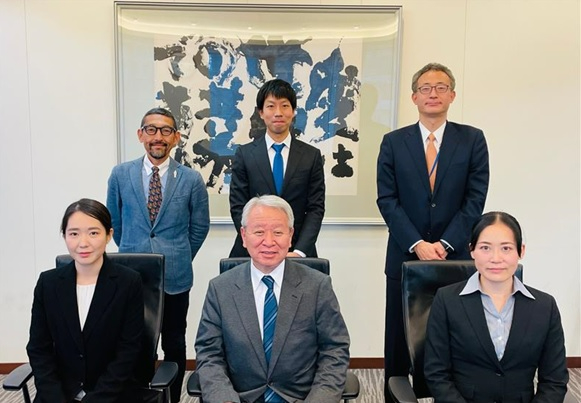 From left in the front row are Ms. Takabayashi, JICA President Tanaka, and Ms. Asai.
In the back row from left are Mr. Otsuka, Chief Secretary of the Office of the President; Mr. Oishi; and Mr. Uchida, Deputy Director General of JOCV.
Turning a difficult situation into an opportunity: Building bridges between Laos and Japan
Takabayashi Miki (dispatched to Laos, category: Community Development, age 30, from Tokyo) was assigned to the Agriculture Office in Luang Prabang Province, located about an hour north of the capital Vientiane by plane, as the first member of the team to support farmers in the target district. Her main activities were (1) capacity building of farmer groups, (2) sales promotion of organic products, and (3) development of sales channels. The spread of COVID-19 restricted local economic activities and Takabayashi had to return to Japan for an extended period of time. However, as a result of her efforts in Japan, including information gathering about Japanese companies and networking, she succeeded in winning support from Japanese companies operating in Laos for agricultural products cultivation and the purchases. Her flexible approach to reversing the difficult situation not only motivated and empowered the farmers, but also resulted in the export of agricultural products and others.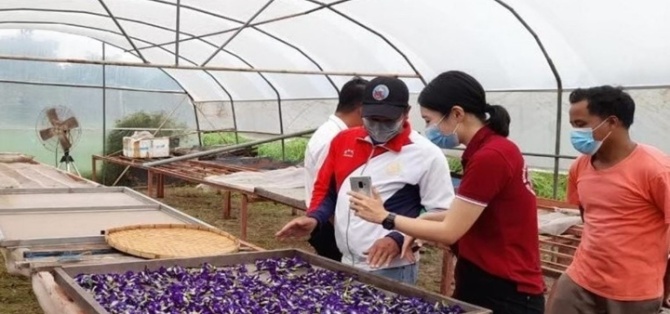 Inspection of a butterfly pea (*) plantation for export to Japan during the time when they had been evacuated to the capital.
(*): The butterfly pea is a blue flower used as a natural coloring in Japan.
Activities with the local people to create a brighter future for the region
Oishi Yusuke (dispatched to Rwanda, category: Marketing, age 28, from Kanagawa Prefecture) provided management and marketing guidance to small and medium-sized businesses and entrepreneurs in Rwamagana District, Eastern Province, about 60 km from the capital, Kigali. To help solve problems, he created a management and marketing guide by himself, which he distributed and explained to local shopkeepers and business leaders. His other activities included workshops for locals to improve their financial literacy and to help create a better future for the community. What's more, in order to let more people in Japan know about JOCV and Rwanda, he also focused on publicity and actively disseminated information via various publishers' web media platforms and his own blog.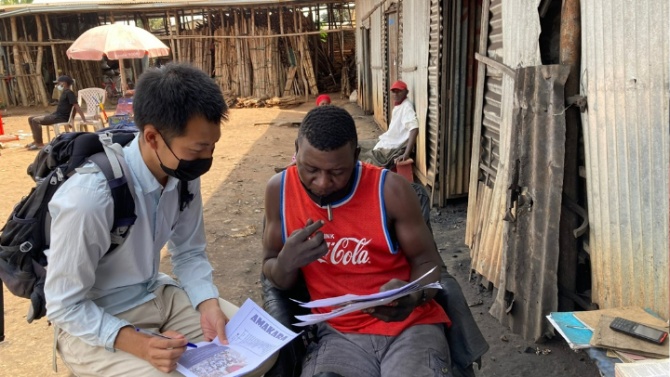 Meeting with the owner of a charcoal store to offer promotional flyers, check its ledgers, and give advice.
Building trust over time and distance with new online classes
Asai Satomi (dispatched to the Dominican Republic, category: Japanese Language Education, age 42, from Gifu Prefecture) was assigned to a Nikkei Association in the Santo Domingo district of the capital city, where she taught Japanese language and culture to children of immigrants (mainly Yonsei, 4th generation: ages 6-18). There are four Nikkei Association Japanese language schools, including one in the capital, and she also toured local schools to teach classes. Although she was forced to return home temporarily because of the spread of COVID-19, classes were conducted remotely from Japan during that time. Due to the time difference, classes were held during late-night hours in Japan, but she persevered in continuing with the classes and made a significant contribution to the Nikkei community. After being reassigned to the Dominican Republic in March 2021, she started by offering online classes while carefully watching the COVID-19 situation, then gradually began to offer face-to-face classes at each school.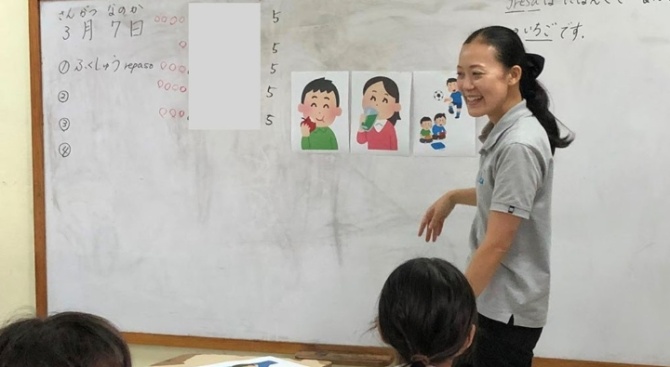 Third- and fourth-grade class at a school in the capital of Santo Domingo. All students are of Japanese descent. Rural schools have few students, and all grades are taught jointly in combined classes at primary schools and community centers.
After the informal conversation with Their Majesties, the participants left comments such as, "Their Majesties listened attentively to each volunteer's report from beginning to end, with smiles on their faces throughout. We were touched by Their Majesties' kind words and thoughtfulness." "All JOCV were asked about their reasons for joining the cooperative and what they found good about doing so." "Their majesties showed interest in our local activities and asked a wide range of questions." After the informal conversation, His Majesty the Emperor gave a few words to each of the participants.