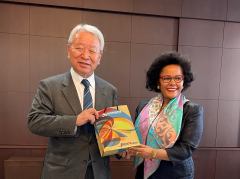 President Tanaka (left) and AUDA-NEPAD CEO Bekele=Thomas
JICA President Tanaka Akihiko held talks with the CEO of African Union Development Agency (AUDA-NEPAD) Nardos Bekele-Thomas at JICA headquarters on November 4, 2022.

President Tanaka began the meeting by mentioning the success of the AUDA-NEPAD/JICA Annual Consultative Conference held on November 1 and stated that JICA would continue to deepen collaboration in line with AUDA-NEPAD's priority areas.

In response, Ms. Bekele-Thomas introduced the results of the Annual Consultative Conference, which will expand cooperation in the areas of youth assistance, the humanitarian-development-peace "Triple Nexus," and the African Continental Free Trade Area (AfCFTA), in addition to existing areas of cooperation. It was also proposed that AUDA-NEPAD and JICA take the lead in conducting a review of the accomplishments and future of TICAD, which will celebrate its 30th anniversary next year.

Furthermore, the two exchanged views on future cooperation with Ethiopia and other conflict-torn countries in the wake of the ceasefire agreed upon in the Ethiopian civil war.