In June 2021, JICA entered into a partnership agreement with the Japan Women's Empowerment Professional Football League (WE League). The aim of the agreement is to promote international cooperation through the sport of football in developing areas.

For three days from August 19 to 22, 2022, JICA cooperated with the Federation of Uganda Football Associations (FUFA) to co-host a women's football tournament in Uganda. The tournament was titled the TICAD CUP 2022, after the Tokyo International Conference on African Development (TICAD), a summit-level international conference on African development launched by Japan in 1993, which was held in Tunisia in August this year. The event sought to raise awareness of TICAD and JICA, and to promote a deeper understanding of the current plight of women and refugees in Ugandan society. Uganda currently hosts more than 1.5 million refugees, more than any other African country.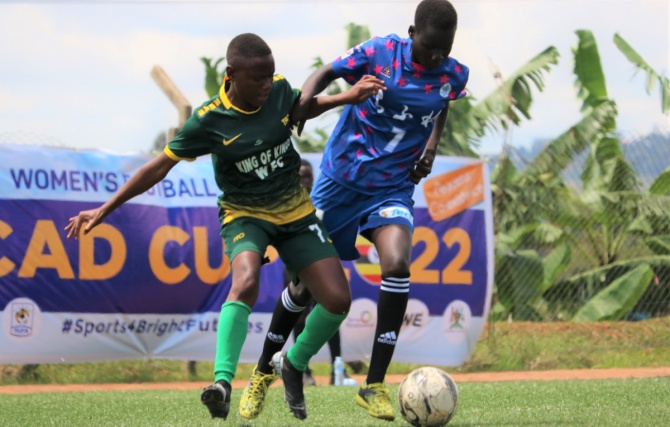 Refugee athletes take part in a women's football tournament
Along with five school teams from different regions of Uganda, FUFA invited, a mixed team made up of refugees and members of the host community of Pargirinya to join this event. King of Kings, a secondary school from Fort Portal, won the tournament, but a highlight of the event was when the mixed refugee team, who had previously only played football barefoot, won a game against one of the strongest school squads.

The mixed refugee team sported uniforms donated by Japan's WE League through JICA, a result of the recent partnership agreement between the two organizations. The WE League's philosophy of "striving to promote an inclusive society, filled with diverse dreams and ways of living, and where individuals can shine through the power of women's football and sports," coincides with JICA's Sport and Development strategy of creating "a peaceful world where all people can enjoy sports."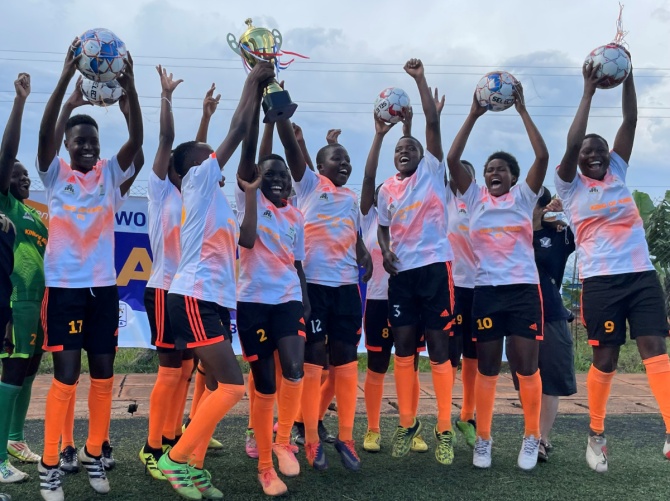 Members of the King of Kings Secondary School Team from Fort Portal raise their trophy after their finals victory.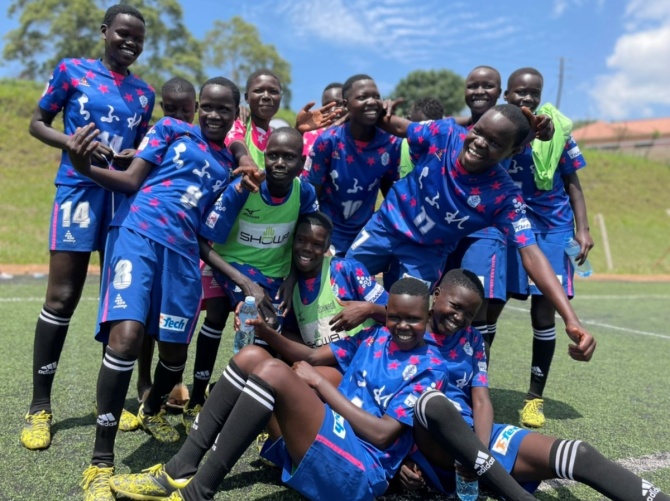 The mixed team of refugees and host community members from Pagirinya Refugee Settlement emerged victorious in a game against a strong school team.
Okajima Kikuko, the first chair of the WE League who retired at the end of September, proposed the donation of uniforms. "The Japan Professional Football League (J League) has been donating uniforms to developing countries for some time," she said. "But men's uniforms are often too large for female players. I've always wanted to donate uniforms in sizes that would fit women properly, so I'm very happy we were able to make it happen."
International cooperation and diversity at the WE League Finals
Back in Japan, the partnership between the WE League and JICA was further strengthened through a number of activities held at the WE League Cup final held on October 1 at Ajinomoto Field Nishigaoka in Tokyo.

Before the game, a video of the TICAD CUP 2022 was shown on the stadium's massive screens to let spectators know there are girls who are fascinated by football even in distant Uganda.

A JICA booth was set up in one corner of the venue where spectators could write messages of support for the Ugandan women's football team. The event also collected football equipment to be donated to the team. Through these exchanges, JICA promoted interest in international cooperation in Uganda and other African countries.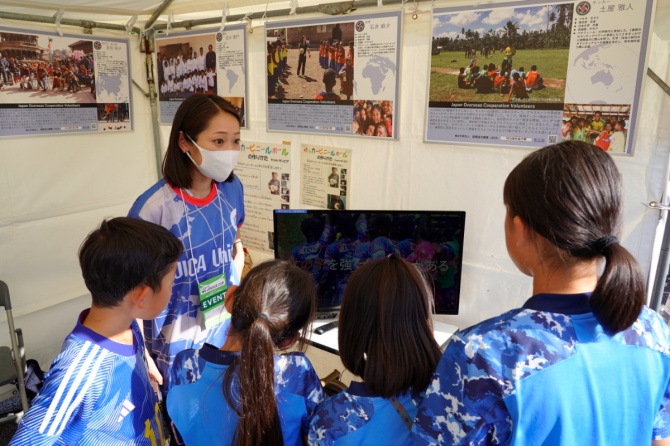 At the JICA booth, panel displays and videos introduced African nations and the Ugandan women's football team.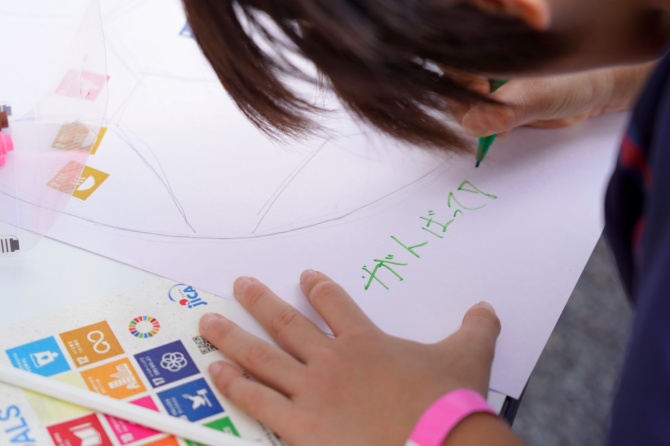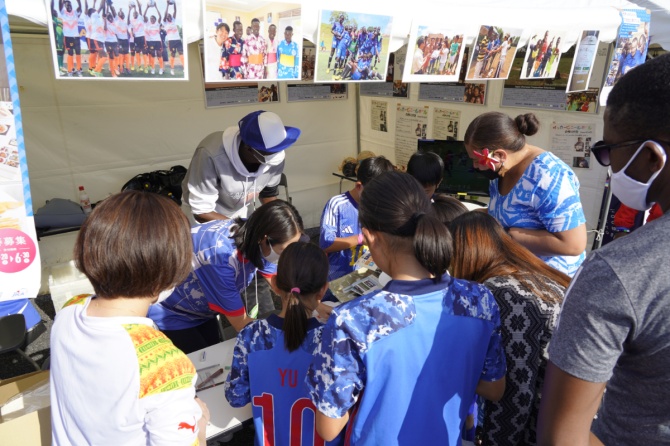 Many visitors wrote messages to members of the Ugandan women's football team.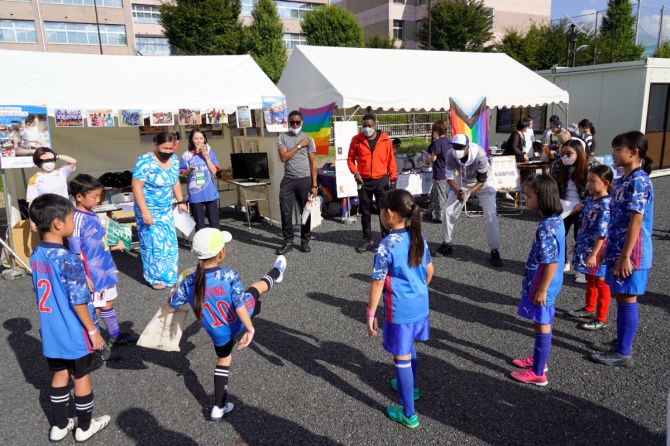 Children playing the traditional Vietnamese sport of Da Cau with the JICA trainees.
One of the most notable moments took place just prior to the final game with the "Diverse Welcome" program, the new initiative of the WE League to realize its philosophy of "allowing for diverse personalities." Four JICA trainees of various nationalities, joined by people of various gender identities, ages, disabilities, and sexual orientations, formed a greeting line to welcome the players onto the pitch.

This was also the idea of WE League founding chair Okajima. "By bringing people from diverse backgrounds together, I thought we could instantly convey how the WE League places a strong emphasis on diversity," she said.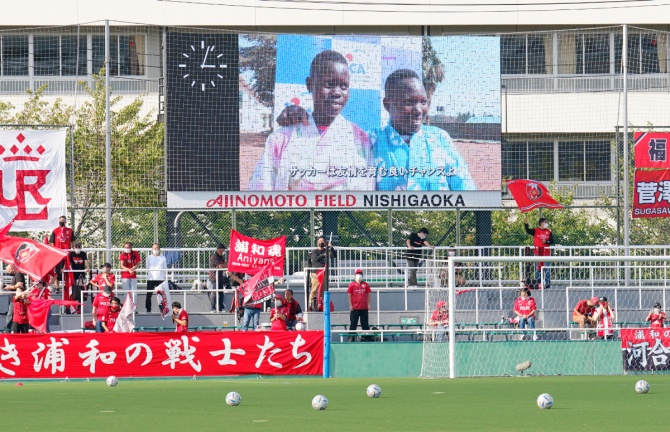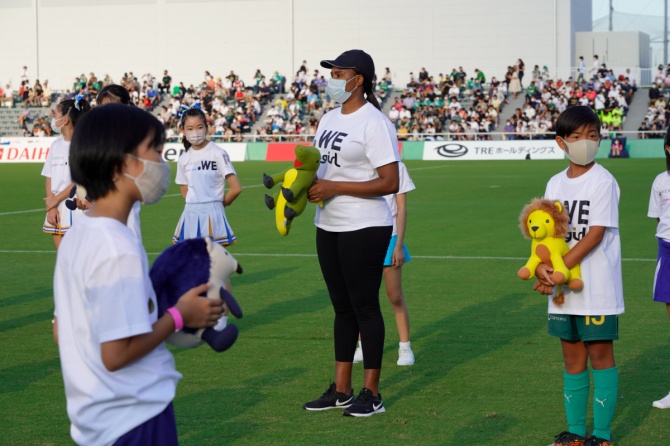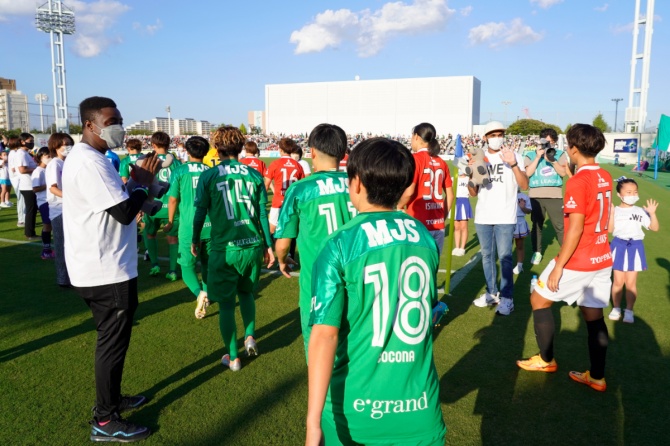 (Top) Footage of the TICAD Cup 2022, held in Uganda last August, was shown on stadium screens before the game. (Center and below) JICA trainees, joined by children, greeted the players as part of the "Diverse Welcome" program.
Women's sports: a place for aspirational careers
The game ended with victory for the MHI Urawa Reds Ladies after a dramatic comeback from three goals down to Nippon TV Tokyo Verdy Beleza. It was an exciting final, but there are still many issues to be addressed, according to founding chair Okajima.

"These events are not yet hugely successful in terms of entertainment," she said. "Our greatest challenge is to get more people interested in women's football and the WE League. We need to improve the treatment of our players and, of course, actively engage in PR activities in order to get girls to dream of becoming professional football players."

The WE League was the first professional league for women's team sports in Japan. The League's launch was significant as a pioneer for improving the social profile of women's sports. The professional league has also helped the players improve, as they have more time to spend on training, massage, and physical development, unlike amateurs who are forced to practice in their limited spare time.

"I hope to keep encouraging the formation of relationships that cross the borders of baseball, softball, basketball, and other sports, and will give children from different family backgrounds, especially girls, more opportunities to play sports," said Okajima. "In Europe and the United States, there are iconic players who are the object of admiration for football-loving girls. I hope the WE League produces such players."

Okajima expressed her strong belief that sports have the power to move and motivate, and to bring people together. It is a power that transcends gender, country, and language.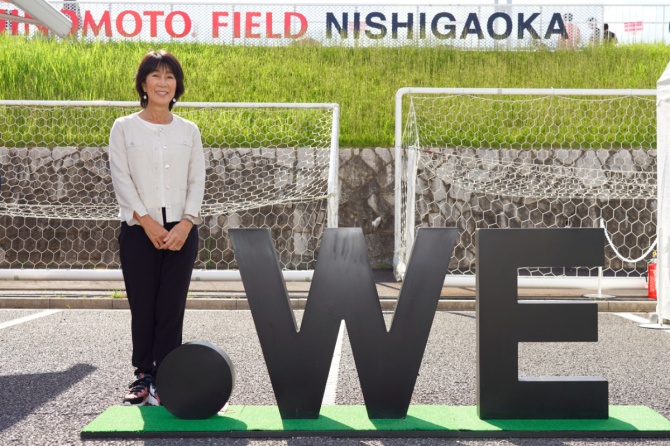 Founding chair Okajima Kikuko at the WE League Cup Final.
Sports and empowerment
Okajima spoke about the future of collaboration between JICA and women's football. "I hope that WE League players can, for example, go to developing countries and give uniforms directly to children," she said. "I'd like to see them open football schools there too. Seeing children devote themselves to football, despite the lack of readily available football facilities and equipment, helps players become aware of the option of working as local coaches after retirement. And when local children witness professional female football players, they learn of a world where they can make a living playing football. This spurs dreams of becoming a professional someday. I'd be very happy if we could implement these activities in conjunction with JICA."
A large crowd watched the thrilling WE League Cup final this past October.
Sports have the capacity to empower people. No matter how far apart Uganda and Japan are, the success of athletes from each country should serve as an inspiration to other athletes. Women's sports still face some difficulties not only in Japan but also around the world. With luck, however, the enthusiasm for women's football in both Japan and Uganda will grow into a wave that expands the scope of women's sports worldwide.