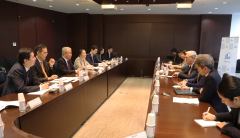 Scene from the meeting (photo:UNHCR)
On November 7, JICA President Tanaka Akihiko met with United Nations High Commissioner for Refugees (UNHCR) Filippo Grandi at JICA headquarters.

President Tanaka and Mr. Grandi discussed the need to strengthen efforts toward addressing the increasingly compound and protracted humanitarian crises around the world, highlighting the importance of partnerships between humanitarian-aid organizations and development actors in this regard. They also exchanged views on the importance of further strengthening the collaboration between both organizations in Africa, the Middle East, and South Asia. In addition, following the successful implementation of the Japan Initiative for the future of Syrian Refugees (JISR), both sides agreed to continue discussions on exploring the potential of expanding cooperation in the education sector.

Mr. Grandi introduced the importance of the second Global Refugee Forum in December 2023, and they agreed to work closely together in preparation for joint communication at the forum.

JICA will continue to enhance its partnership with the UNHCR and to support refugees through its humanitarian and development cooperation.