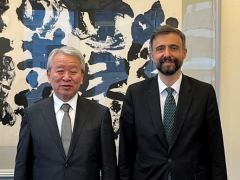 President Tanaka (left) and President Lario
On November 17, JICA President Tanaka Akihiko met with President Alvaro Lario of the International Fund for Agricultural Development (IFAD) at JICA Headquarters.

To begin the meeting, President Tanaka conveyed his congratulations to President Lario for his inauguration and for the opening of the IFAD Liaison Office in Japan. He also expressed JICA's wish to further expand cooperation with IFAD to enhance food security in Africa, based on concerns over the recent climate-change and food crises, and the impact on small farmers in developing countries of soaring fertilizer prices.

In response, President Lario noted the good partnership that has been built with JICA through cooperation on several projects, and IFAD's expectation to continue to cooperate in a wide range of fields in the future, such as agriculture, nutrition, and food security, etc.

They then exchanged thoughts on renewing the Memorandum of Cooperation between JICA and IFAD, strengthening cooperation through the Coalition for African Rice Development (CARD), an international initiative promoted by JICA, and the potential for cooperation on Home-Grown School Feeding (HGSF).