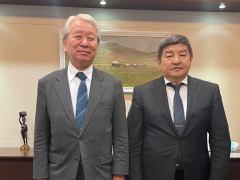 President Tanaka (left) and Chairman Zhaparov
On November 30, JICA President Tanaka Akihiko met with Akylbek Zhaparov, Chairman of the Cabinet of Ministers and Head of the Presidential Administration of the Kyrgyz Republic, at JICA headquarters.

President Tanaka noted that the One Village One Product (OVOP) Approach project, launched in the Issyk-Kul region of Kyrgyzstan with the cooperation of JICA, has led to the export of local Kyrgyz products to Japan, Europe, and the United States in coordination with Japanese companies. He welcomed the promotion of the project by the Kyrgyz government as a national project.

In response, Chairman Zhaparov spoke highly of JICA's activities in the Kyrgyz Republic. Both sides exchanged views on cooperation in the areas of road-infrastructure development, the OVOP Approach, agriculture, energy, and medical care, as well as the current status and future prospects of The Project for Human Resource Development Scholarship (JDS), a project supporting human resource development by providing young leaders from Kyrgyz with full scholarships for graduate degrees in Japanese Universities.