It was agreed at the COP27 UN Climate Change Conference held in Egypt in November 2022 to expand assistance to developing countries that have already been severely affected. Damage due to climate change has recently become more serious, with prolonged droughts in northeastern Africa and large-scale floods in Pakistan having a significant impact on people's lives. Climate change is an urgent and important issue, and it is time for developed countries to work together with developing countries to achieve the goals of the Paris Agreement and build societies that are resilient to climate change. JICA is accelerating its efforts in developing countries, incorporating its perspective and expertise on climate change countermeasures to deal with a wide range of issues such as energy, transportation, agriculture, and forestry.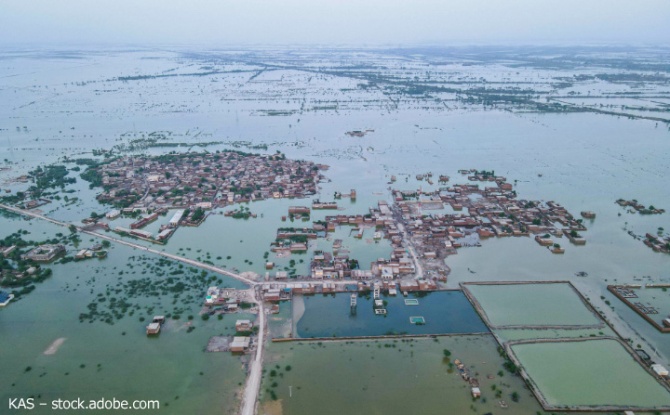 In 2022, flooding from record heavy rains ravaged Pakistan.
The key to implementing climate change countermeasures
For the first time, the 27th session of the Conference of the Parties to the UNFCCC (COP27) formally discussed funding arrangements for "loss and damage" associated with the adverse effects of climate change, such as floods, rising sea levels, and droughts. After difficult negotiations, an agreement was finally reached to establish a fund, in response to loss and damage, for assisting developing countries that are particularly vulnerable to the impacts of climate change.

In an interview, Kawanishi Masato, JICA Senior Advisor on Climate Change, reflected on COP27, emphasizing that this was an "implementation COP," focusing on enabling the implementation of climate change countermeasures.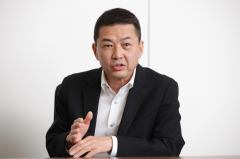 Kawanishi Masato, JICA Senior Advisor
While the Paris Agreement, adopted at COP21 in 2015, called for "limiting the increase in global average temperatures to 1.5 degrees above pre-industrial levels," current efforts by each country fall well short of this goal. Kawanishi said that COP27 was expected to demonstrate resolve on the implementation of measures to fill this gap.

The "Emissions Gap Report 2022," released by the United Nations Environment Programme (UNEP) just prior to COP27, stated that even if countries meet their current targets, the global average temperature is likely to rise by 2.4 to 2.6 degrees by the end of this century compared to temperatures during the Industrial Revolution. The World Bank estimates that if no concrete action is taken, the number of people forced to migrate due to climate change will reach 216 million by 2050(1). The time to act is now.

(1) Groundswell Part 2: Acting on Internal Climate Migration, World Bank

At COP27, JICA held discussions with relevant stakeholders from various countries, including at a side event titled "JICA's climate change countermeasures to achieve the Paris Agreement goals." The key term in these discussions was "just transition." Achieving the goals of the Paris Agreement will not only require physical elements such as reducing GHG emissions, but also a change in the mindset of society. This year's COP allowed for face-to-face communication, and there was growing momentum among participants to directly confirm their mutual awareness and direction, and to move forward together.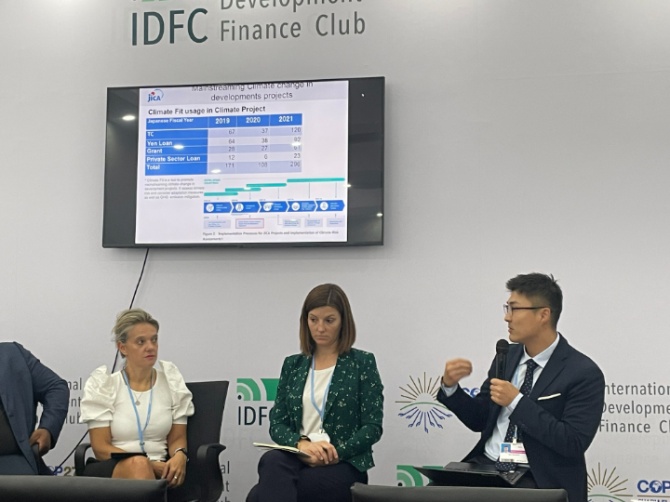 Watanabe Taiji, JICA's Office for Climate Change (far-right), discussing adaptation measures with representatives of the International Development Finance Club (IDFC), a network of development financing institutions, at COP27.
Pursuing co-benefits between climate change actions and sustainable development
JICA has identified climate change as one of the 20 strategic targets of the JICA Global Agenda for addressing issues in developing countries. It advocates "promoting the implementation of the Paris Agreement" and socio-economic development through sustainable development that reduces vulnerability to climate change and GHG emissions—in other words, a co-benefits approach to climate change countermeasures." This approach incorporates both climate change mitigation, aimed at the reduction and absorption of GHG emissions, and climate change adaptation, to handle the negative impacts of climate change effects that are already in progress.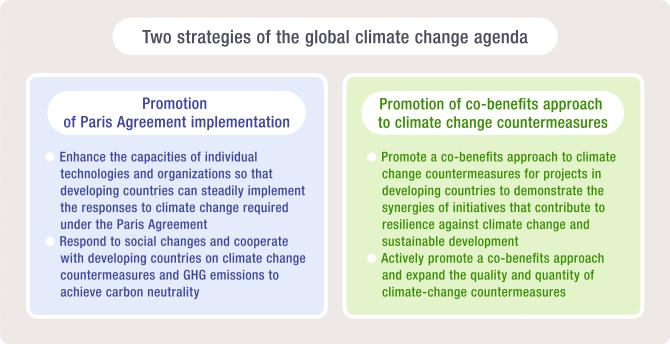 Kawanishi shared his thoughts about the approach to climate change responses. "If we don't take action on climate change now, the consequences will be devastating," he said. "However, climate change action, in some cases, will necessitate the transformation of our social and economic systems. This transition, unless well managed, may undermine the efforts of development. Thus, an approach is needed that seeks co-benefits between climate change action and sustainable development goals, producing synergies while also mitigating negative trade-offs."

Kawanishi was once involved in a project to strengthen the Indonesian government's capacity to combat climate change. He shared an awareness of climate change issues with officials in various ministries and agencies so that they could incorporate climate change countermeasures into their respective fields. "It is important that we engage in continuous dialogue and provide necessary evidence to ensure that everyone is heading in the same direction to achieve both climate change action and sustainable development."

JICA currently incorporates the perspectives of climate change mitigation and adaptation from the project planning stage of all kinds of development issues, such as energy, transportation, urban development, agriculture, disaster risk reduction, and forest conservation. For example, in a project promoting the use of irrigation facilities in the agricultural sector, development plans took into account the effects of climate change, such as floods and droughts. Incorporating climate change considerations and countermeasures into project plans helps JICA in meeting both the climate and the developmental needs of developing countries.
Co-benefits approach in developing countries
JICA has taken action against climate change in 67 countries as of 2021. For example, in Indonesia, JICA is supporting the formulation of the country's climate resilient development plan by identifying the economic loss due to climate change and developing adaptation measures to minimize this loss. Another case is the establishment of the Pacific Climate Change Center in Samoa for Pacific Island nations whose survival is threatened by rising sea levels. This project aims to develop human resources in Pacific Island countries who will take the lead on climate change countermeasures in their respective ministries and agencies.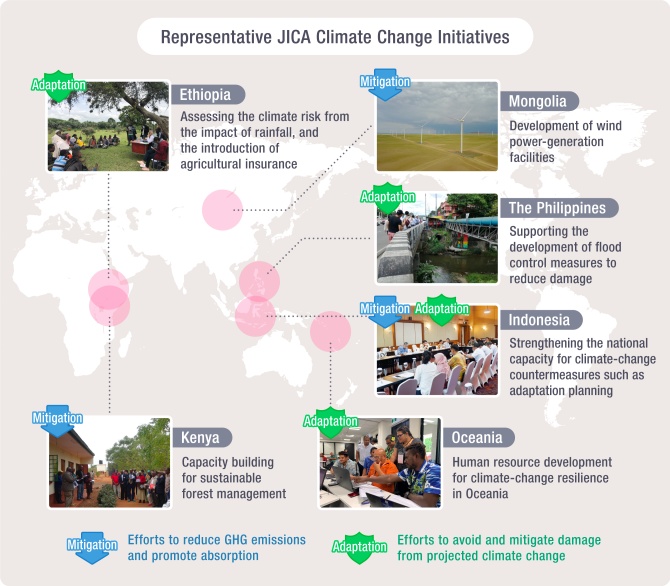 Kawanishi described the challenges concerning future efforts. "Media reports around COP27 often highlighted divergent views on many issues between developed and developing countries, but I feel that cooperation is progressing steadily on the ground," he said. "It is a great challenge to promote measures to address climate change in the midst of other serious development issues around the world, such as the Ukraine crisis and food, poverty, and energy issues. Innovative technologies will need to be developed and utilized in order to achieve the major goals of the Paris Agreement, but it will also be necessary to engage all actors, from governments and companies to individuals, and to enable the implementation of climate change actions at all levels."