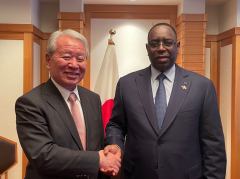 President Tanaka (left) and President Sall
On December 19, JICA President Tanaka Akihiko met with H.E. Macky Sall, the president of the Republic of Senegal, in Tokyo.

President Tanaka started the meeting by mentioning the launch of new projects in the education and fishery sectors and stated that further cooperation will also be promoted in other sectors. President Tanaka additionally explained that JICA had commenced a survey to examine the possibility of cooperation which involves private sector, as requested by the Senegalese side.

In response, President Sall expressed his gratitude for JICA's wide-ranging and fruitful cooperation and reiterated the request for the involvement of Japan's private sector in further cooperation. Furthermore, both sides exchanged views on the importance of efforts towards achieving food security and the involvement of ABE-Initiative graduates for securing the participation of the private sector in Japan-Senegal cooperation.