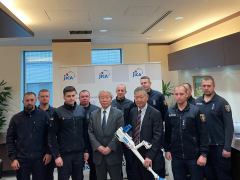 Mr. Kulykivskyi (front row, 2nd from left), President Tanaka (front row, center) and Prof. Sato of Tohoku university who invented mine detector ALIS (front row, 2nd from right)
JICA President Tanaka Akihiko exchanged views with Mr. Stanislav Kulykivskyi, Head of the International Technical Assistance Division of the State Emergency Service of Ukraine (SESU), and eight deminers of SESU at JICA Headquarters on January 23.

At the outset, President Tanaka expressed his condolences to the victims of the January 18 helicopter crash in Brovary, who included Honorable Minister of Internal Affairs Mr. Monastyrsky. He then paid tribute to all the deminers of SESU, who put themselves at risk every day to protect the lives and safety of the Ukrainian people, and expressed JICA's willingness to promptly support the development of SESU's capacity for humanitarian mine action. He also stated that Russia's invasion of Ukraine is a clear violation of international law and a challenge to the international order, and that SESU's activities contribute not only to the safety and security of people, but also to the protection of this order. He further stated that SESU's participation in a training program on ALIS (Advanced Landmine Imaging System) at the Cambodia Mine Action Centre (CMAC) from January 16 to 20 was also significant in terms of mobilizing Asian cooperation and support for Ukraine.

In response, Mr. Kulykivskyi explained that approximately 30% of Ukraine's land area (174,000 square kilometers) has been assessed to be contaminated with landmines and UXOs (unexploded ordinances), and that humanitarian demining is essential for the safety and security of the people and a condition for Ukraine's recovery and reconstruction. He also emphasized the importance of such action internationally, saying that the contamination of farmland that has restricted Ukraine's grain production and exports has also led to a global food crisis. He expressed his gratitude to the Japanese government, people, and JICA, as well as his hope for deeper cooperation in the future.