1. Overview
- 6th IMF-JICA Joint Conference
- Date: 14th February, 2023
- Co-organizer: International Monetary Fund (IMF) and JICA
- Venue: International Conference Hall, JICA Ogata Sadako Research Institute for Peace and Development
2. Major Attendees
- More than 30 officials from 12 Asian countries (*), including 4 finance ministers and 3 central bank governors, attended the conference.
- Ministry of Finance of Japan: Vice Minister of Finance for International Affairs, Mr. Kanda.
- IMF: Deputy Managing Director Mr. Okamura; Director, Asia and Pacific Department, Mr. Srinivasan; Director, Fiscal Affairs Department, Mr. Gasper.
- JICA: President Dr. Tanaka; Senior Vice President Mr. Yokoyama; Vice President Dr. Muto.

(*) South East Asia (Cambodia, Indonesia, Laos PDR, Philippines, Vietnam), South Asia (Bangladesh, India, Maldives, Nepal, Pakistan, Sri Lanka), East Asia (Mongolia).
3. Objectives
Since 2011, the IMF and JICA has co-hosted an international conference in Tokyo with fiscal and monetary authorities of Asian countries to provide an opportunity for participants to discuss regional and global issues.

The sixth conference was organized for the first time in three years under the theme of "Recovery from the Pandemic in Developing Asia: Inclusive and Sustainable Growth with Sound Fiscal Management."

Against the backdrop of the current compounding crises negatively affecting the achievement of SDGs and the response to climate change, the representatives shared their experiences and lessons learnt on the respective countries' fiscal/monetary policies and public financial management during the pandemic. They also had lively discussions on fiscal policies for recovery from the pandemic, climate change, and universal health coverage (UHC).
4. Summary
JICA President Dr. Tanaka and IMF Deputy Managing Director Mr. Okamura delivered welcome remarks, followed by opening remarks by Vice Minister of Finance for International Affairs, Mr. Kanda.

● Session on Fiscal Policies for Recovery from the Pandemic
The IMF provided an outlook of Asian economies, current challenges such as economic scarring and financing gap toward achieving the SDGs as well as opportunities. The IMF emphasized the importance of balancing immediate response to compound risks with medium term fiscal sustainability, while at the same time undertaking fiscal structural reforms for longer-term growth, including human resource development, social protection, climate change and digitalization.
JICA introduced its initiatives on strengthening fiscal foundation in partner countries. Also, by referring to the study results that the annual financing gap of social infrastructure in Asia is estimated USD 1.5 trillion, JICA emphasized the need to increase public-private funding and to improve investment efficiency.
Asian representatives shared their experience and lessons learned from their fiscal policies during the pandemic, initiatives for enhancing long-term growth, and public fiscal management reforms.

● Session on Climate Change:
Based on IMF's survey that analyzed public perceptions on climate change mitigation policies in 28 countries, the IMF representative emphasized the importance of designing climate change-related policies, such as carbon taxes, by providing additional information on policy efficacy and co-benefits to the public and raising awareness . Also, due consideration to their redistribution impact and inclusion of alleviation measures are necessary.
JICA, from its experience of providing Climate Change Program Loan and Post Disaster Stand-by Loan, pointed out the importance of involving a wide range of stakeholders and considering various technical options and multiple sectors to formulate effective policy instruments to respond to climate change.
Asian representatives reported their climate change response policies, including their work on creation of carbon market.

● Session on UHC:
Recognizing the significance of investment in UHC as a foundation for inclusive economic growth, JICA reported that its COVID-19 Crisis Response Emergency Assistance Loan helped strengthening of health system, protection of vulnerable population, and economic reconstruction. Representatives of Cambodian Ministry of Health and Ministry of Economy and Finance, as well as Bangladesh Ministry of Finance, stressed that cooperation between the two ministries is essential to increase investment in human capital toward resilient UHC.

Throughout the conference, the representatives had a lively discussion, making this conference a significant opportunity for mutual learning. JICA, by partnering with the IMF, will continue to work in pursuit of building the resilience in Asian countries.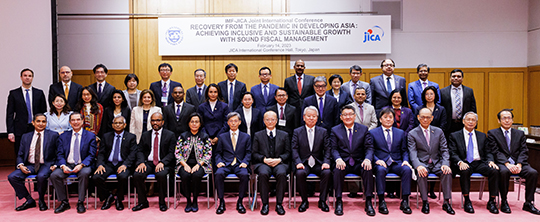 Conference participants