The 2nd Dakar Financing Summit for Africa's Infrastructure (DFS-2) was held in Dakar from 2 to 3 February 2023. The event aimed at further mobilising support for the Programme for Infrastructure Development in Africa (PIDA), launched 11 years ago by the African Union Commission (AUC) to source projects to accelerate infrastructure development in Africa. African Union Development Agency (AUDA-NEPAD), in partnership with the AUC, African Development Bank (AfDB) and the United Nations Economic Commission for Africa (UNECA), is coordinating PIDA's implementation.

Under PIDA, priority infrastructure projects focus on transport, energy, water as well as information and communications technology (ICT). These projects are being implemented under PIDA's priority action plans (PAP), in particular PIDA PAP1 from 2012 to 2020, PIDA PAP2 from 2021 to 2030, and PIDA PAP3 from 2031 to 2040. The projects are aimed at creating resilient supply chains for the production, processing and distribution of Africa's resources through infrastructure development in Africa.

However, the success of these projects depends on the availability of resources, which are scarce. In fact, AfDB estimates an annual infrastructure funding shortfall at USD 68-108 billion.

The DFS-2 gathered over 1200 participants including African heads of state, regional economic communities (RECs), policy makers, development finance institutions (DFIs), multilateral development banks (MDBs), partner organisations as well as private companies to drive collective support for PIDA 69 projects (as called PIDA PAP2) catalysing the path to resource mobilisation and successful implementation of PIDA.

JICA participated in the DFS-2 as a co-organizing institution and contributed to the success of the Summit through JICA Advisors working at AUDA-NEPAD.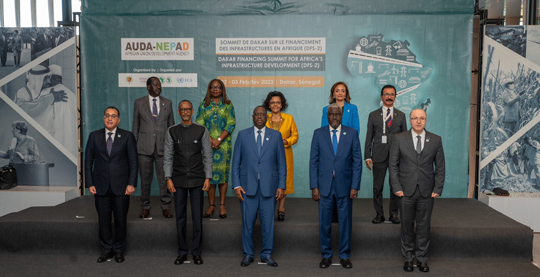 A family photo taken at the DFS-2 Opening Ceremony, President of Senegal (centre) and Rwanda (centre-left), Prime Minister of Egypt (far left) and Algeria (far right), Chairperson of AUC (centre-right), CEO of AUDA-NEPAD (yellow dress)
AUDA-NEPAD and JICA are now conducting a comprehensive data collection exercise to develop the First 10-Year PIDA Progress Report, which will include PIDA's achievements over a decade and critical considerations moving forward, particularly challenges associated with slow implementation. It has been pointed out that the project information is often inaccurate, inadequate, outdated and not well communicated to the public, especially investors, resulting in slow mobilization of funds.

On 3 February, "A Decade of Regional Infrastructure Development in Africa: First 10-year Progress Report of PIDA" was held as one of the plenary sessions on the DFS-2 to reflect on the above issue.

Mr. HORIUCHI Toshihiko, Ambassador Extraordinary and Plenipotentiary of the Mission of Japan to the AU participated in a discussion along with Mrs. Bekele-Thomas, CEO of AUDA-NEPAD, as well as representatives from AUC, AfDB, UNECA, and the Economic Community of Central African States (ECCAS). The discussion focused on facilitation of financing requirements to address challenges, enhancing efficiency and visibility, and overall performance of implementation.
Ambassador HORIUCHI delivering remarks on JICA's contribution to PIDA.
In this discussion, Ambassador HORIUCHI touched on the Japan-Africa partnership through the Tokyo International Conference on African Development (TICAD) Process, Japan's contributions to PIDA, and global governance including sound multilateralism and the rule of law.

Said Ambassador HORIUCHI: "The 10-year PIDA Progress Report will serve as a pillar to gather multi-stakeholder support from Africa itself while enhancing ownership and partnership and will support the promotion of African-led implementation of PIDA".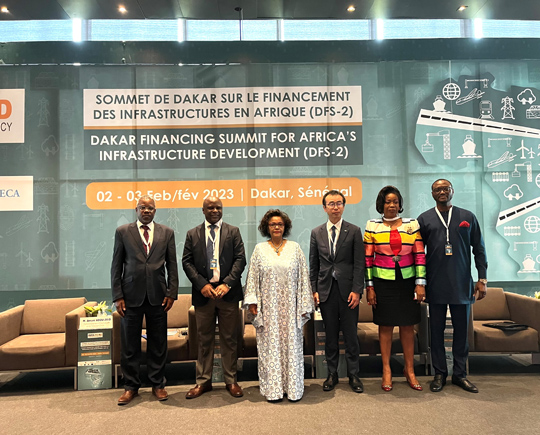 Mrs Bekele Thomas, CEO of AUDA-NEPAD (in the white dress), Ambassador HORIUCHI (to her right), and Dr Kamugisha Kazaura, AUC's Director of Infrastructure and Energy (far left).

The Summit concluded with the issuance of the Dakar Declaration on Synergies of Action for Infrastructure Financing in Africa. The Declaration listed concrete actions for infrastructure financing in Africa.

These include calls on member states (MS) to integrate PIDA projects into their national priorities and to strengthen risk mitigation systems, a call for private funds, institutional funds, and innovative sources of finance such as climate finance, green bonds and diaspora bonds to invest in PIDA projects, and a call for increased funding and consolidation of services for the preparation of infrastructure projects. It also urges financial partners to ease financing conditions, including reducing the debt ceiling and budget deficit limits and requests AUDA-NEPAD, in partnership with the AUC, AfDB and RECs, to establish a mechanism to follow up on the implementation of the Summit outcomes.
JICA will continue to strengthen its collaboration with AUDA-NEPAD to promote the implementation of PIDA and the African Continental Free Trade Area (AfCFTA) to take advantage of the growing momentum for Africa's regional integration.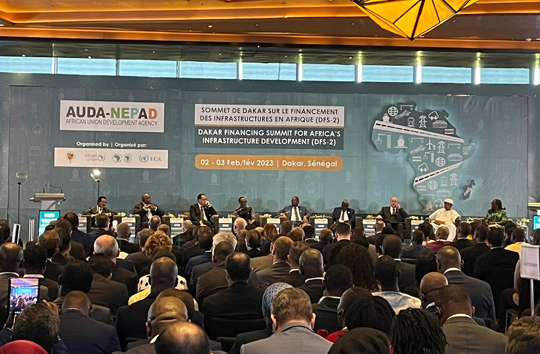 The Summit gathered over 1200 participants.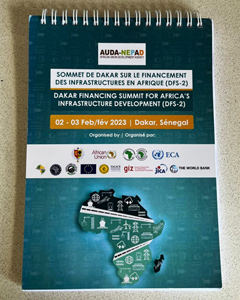 An example of branding by JICA as summit co-organiser.