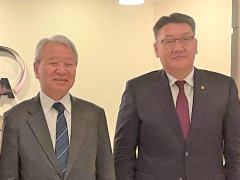 On February 13, JICA President Tanaka Akihiko met with Bold Javkhlan, Mongolia's Minister for Finance, at JICA Headquarters.

President Tanaka opened the meeting by welcoming Minister Javkhlan to Japan. He then paid tribute to the leadership that the minister has exercised in the current international situation, which is one of growing uncertainty, and to the minister's work in the rigorous implementation of Mongolia's fiscal and economic policies.

Minister Javkhlan responded by expressing gratitude for JICA's 30 years of cooperation with Mongolia and his hope that the relationship between the two countries will continue to grow. He added that thanks to the COVID-19 Crisis Response Emergency Support Loan, a Japanese ODA loan provided through an agreement signed in October 2020, relations between Mongolia and Japan became even closer during the most difficult times of the COVID-19 crisis.

The two parties then exchanged opinions on Mongolia's current macroeconomic situation and its future prospects, as well as on the direction that JICA's cooperation should take in the future. Minister Javkhlan mentioned that JICA projects, especially the Two Step Loan Project for Small and Medium-Scaled Enterprises Development and Environmental Protection Phase I and II (Japanese ODA loans provided via agreements signed in 2006 and 2010) and the grant aid Project for Human Resource Development Scholarship (2001–), are contributing to economic growth and human resource development in Mongolia. He then expressed his wish to make economic cooperation between Japan and Mongolia even more beneficial to both countries, and President Tanaka concurred. The two officials also talked about the growth of relations between the two countries.