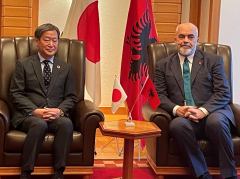 Mr. Yamada (left) and Prime Minister Rama
On February 21, JICA Executive Senior Vice President Yamada Junichi met with the Prime Minister of the Republic of Albania Edi Rama in Tokyo.

At the opening of the meeting, Mr. Rama expressed his gratitude for JICA's cooperation, while mentioning his country's history of democratization, and expressed his hope for stronger relations with Japan. In addition, he also expressed his expectations for cooperation in the areas of manufacturing, agriculture, and tourism.

In response, Mr. Yamada, referring to Russia's invasion of Ukraine, said that JICA would like to support the affected countries and contribute to the stability and development of Albania. He also explained JICA's efforts in Albania, including the dispatch of experts in the field of tourism, and stated that going forward, the agency would continue such cooperation.

The two sides then exchanged views on future cooperation in the areas of education, digital transformation, and environmental preservation.