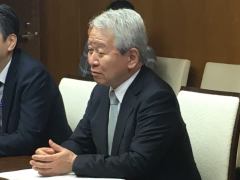 President Tanaka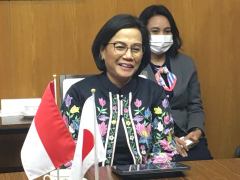 Minister Sri Mulyani
JICA President Tanaka Akihiko met with Indonesia's Minister for Finance Sri Mulyani Indrawati in Tokyo on February 14.

President Tanaka stated that further cooperation between Japan and Indonesia—with this year marking the 65th anniversary of the establishment of diplomatic relations—will lead to the peace and prosperity of Asia and the world as a whole. He also noted that JICA looks forward to cooperating with Indonesia by sharing Japan's expertise in the areas of human resource development and the resolving of such urban issues as public transportation and disaster risk reduction, mainly in Jakarta.

In response, Minister Sri Mulyani noted that with Asia's growing presence in the world, cooperation among countries and institutions is becoming even more important. She also expressed her appreciation for the role that JICA plays in this regard. With Indonesia's economy recovering quickly from the COVID-19 pandemic, Minister Sri Mulyani reiterated the importance of infrastructure development, energy system decarbonization, and renewable energy promotion, as well as of the "Just Energy Transition Partnership", to the country's future growth. Both shared their views on the significance of cooperation in human resource development and other intangible areas.