A JICA Program for Japanese studies (hereinafter referred to as JICA Chair) was held in February at the University of Dar es Salaam, the largest public university in Tanzania. JICA Chair is a program that shares Japan's experiences in development and modernization with students in partner countries. Hasegawa Mariko, President of the Graduate University for Advanced Studies, was dispatched to give a lecture at the event.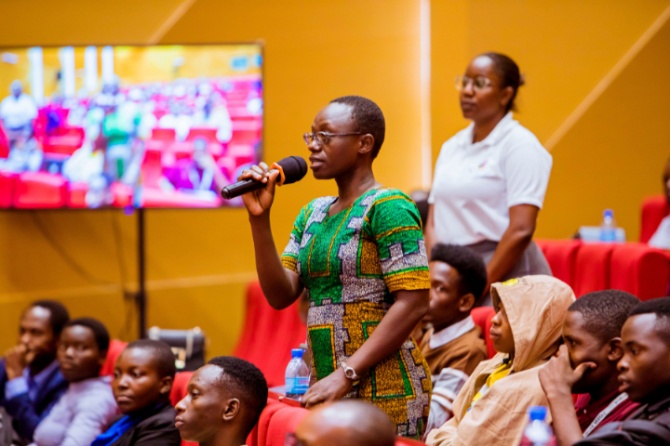 The JICA Chair Lecture "The Road to a Nation of Science and Technology" attracted some 600 attendees
The University of Dar es Salaam, where the JICA Chair was held, is a venerable institution that has produced eminent graduates, including some who went on to become the presidents of Tanzania and neighboring Uganda. The two-day event was attended by more than 600 participants, including students, university officials, government agencies, and private companies, both online and on site.

The first day's panel discussion included Hasegawa, a representative from Japanese IT company and panelists from Tanzania. On the second day of the program, Hasegawa gave a lecture on "Science and Technology for National Growth."

At the beginning of her lecture, Hasegawa posed a question to her student audience: "What exactly is science?" She then gave them her definition. "Science is an activity based on our desire to know why things are the way they are' she said. "Scientific progress is made when research results are made publicly available for everyone to discuss, leading to new discoveries and hypotheses, and the modification of existing ideas."

Given her above concept, Hasegawa further spoke about Japan's experience and the lessons learned through trial and error. She explained how Japan—an island nation that had no close relationships with the Western societies that laid the foundation of modern science—was able to accept and develop Western science and technology. She traced the country's history back to the Edo period (1603 to 1867) and talked about how Japan was able to become a scientific and technological powerhouse.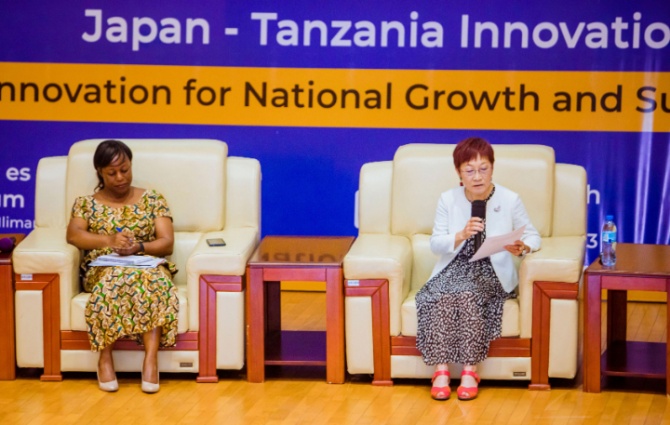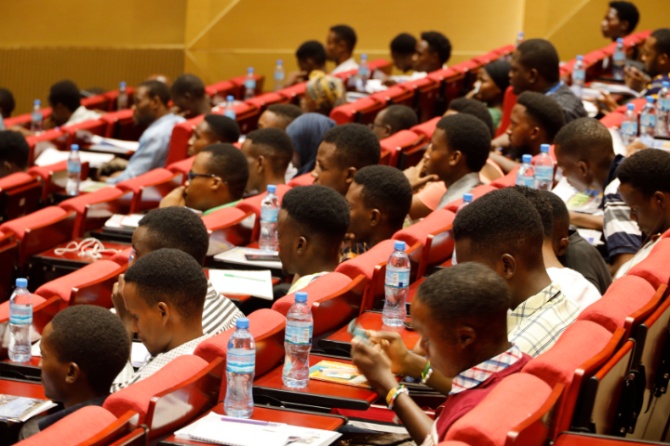 Hasegawa Mariko, President of the Graduate University for Advanced Studies (top), gave a JICA Chair lecture at the University of Dar es Salaam to attentive students (bottom).
Don't emulate developed countries, discover new possibilities
Hasegawa spoke about how science and technology have developed to address various problems. "But," she said, "the fundamental problems of civilization—overproduction and overconsumption—remain." She told the students that following the example of developed countries, including Japan, is already outdated. "The era of categorizing countries by calling them 'developed' or 'developing' is over."

In the lecture, Hasegawa stressed that even taking into account the long history of human evolution from the beginning of agriculture and livestock farming 12,000 years ago, the most dramatic changes have occurred in the roughly 70 years since 1950. The global population, energy consumption, and GDP are all increasing rapidly, and issues such as climate change and food shortages are also mounting.

"It is clear that we can no longer continue to exploit nature and pursue unlimited material wealth," said Hasegawa. "The entire world must strive for a sustainable society, and we are still at the stage of just exploring the concept. We all live in 'developing' countries that are working to find new ways forward."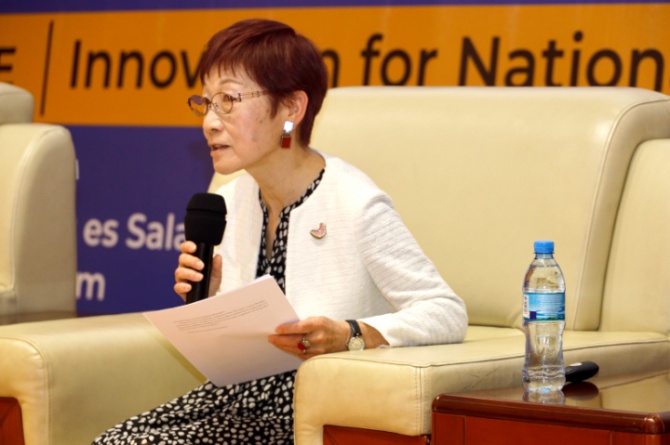 Hasegawa said that in this digital age, with people and things connected globally, what is needed are new ideas, new systems, and the flexibility to adapt to new situations. She went on to encourage the students in the audience: "Young people are the ones who will create a sustainable society in the new era," she said. "It is about having curiosity, flexible thinking, open discourse and imagination, and a strong will to create a new society—and I am sure all of you are capable of this."
Comments from the attendees
"I learned that I can be a resource for innovation, that innovation can start with me, and that I can do anything on my own." (Winifrida Michael)

"I learned that cooperation with other countries is important for a nation's development. I want to share the importance of this with other young people."
(Kelvin Malo)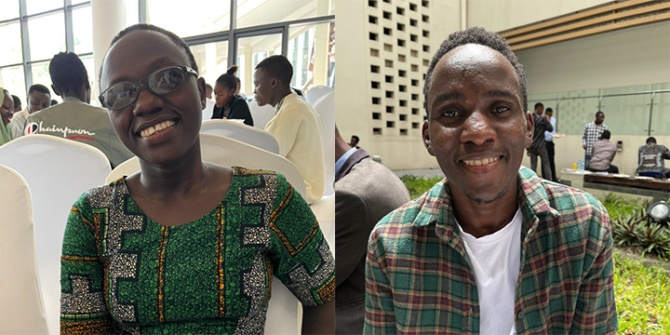 Students Winifrida Michael (left) and Kelvin Malo (right) shared their thoughts on the lecture.
University faculty members also noticed a few positive outcomes from the lecture.

Philbert Joseph Komu, a professor of philosophy and religious studies, said the lectures had a positive effect on his students. "I think our students learned the importance of having the will to learn about innovation and technology," he said. "They now understand the importance of participating in these forums and lectures in order to understand and discuss what is happening in the world."

Other faculty members noted issues that would need to be tackled in the future, such as how science and technology could change the social and economic outlook of Tanzanian society, and how to address the challenges faced by future generations.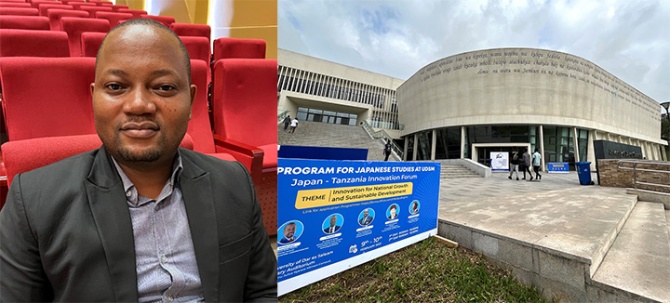 (Left) Philbert Joseph Komu, a professor of philosophy and religious studies at the University of Dar es Salaam. (Right) The university auditorium where the lecture was held. The University of Dar es Salaam is one of the top-ranked universities in Tanzania.
Looking forward to future exchanges
Hasegawa specializes in evolutionary biology, and spent two years in the Tanzanian interior studying wild chimpanzees some 40 years ago. She talked about how much she enjoyed visiting the country again. She sees great potential in the changes Tanzania has experienced and the enthusiasm of its young people. She is looking forward to the new role JICA Chair will play, as she believes that exchanges with Tanzanian students, who are full of energy and a hunger for success, will be a great inspiration for Japanese students. She has been concerned about Japanese students, who tend to be introverted and afraid of taking risks.

JICA Chair began in fiscal 2020 as the overseas extension of the JICA Development Studies Program (JICA-DSP), which shared Japan's modernization and development experiences with international students from partner countries enrolled in Japanese graduate schools. To date, JICA Chair has been conducted in 66 countries worldwide (as of February 2023). JICA Chair will continue to dispatch lecturers to top-level universities in partner countries, offer short-term intensive courses on Japan's development experience, and conduct Japanese studies courses.