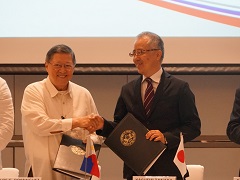 signing ceremony
On June 18, the Japan International Cooperation Agency (JICA) signed a loan agreement with the Government of the Republic of the Philippines in Clark, a city on Luzon island, to provide a Japanese ODA loan of up to 202.04 million US dollars for the Road Network Development Project in Conflict Affected Areas in Mindanao.

The project aims to develop the transportation and logistics capacity and enhance the connectivity in conflict-affected areas in Mindanao through the construction and improvement of access roads to urban arterials.

The project is expected to stimulate the economy, improve the lives of residents and contribute to the consolidation of peace through such effects as reducing transportation costs for agriculture, which is a major industry, and improving access to hospitals and other social services.

Details for the project are provided below.

1. Terms and Amount of Loan
Project title
Amount
(million U.S. Dollar)
Annual interest rate (%)
Repayment
period
(years)
Grace
period
(years)
Procurement
Project
Consulting services
Road Network Development Project in Conflict Affected Areas in Mindanao
202.04
6 Month USD LIBOR+105bp
6 Month USD LIBOR+105bp
25
7
General untied
2. Executing Agency
Department of Public Works and Highways
Address: Bonifacio Drive, Port Area, Manila, Philippines
Phone: +63-2-304-3372/3022

3. Planned Implementation Schedule
(1) Completion of project: June 2024 – when the roads are put into service
(2) Issuing of letters of invitation for consulting services (including detailed design work and construction supervision): August 2019
(3) Tender announcement of initial procurement package for international competitive bidding on project construction: Construction services will be procured with local competitive bidding.