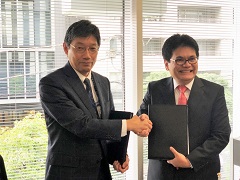 signing ceremony
On June 24, the Japan International Cooperation Agency (JICA) signed a grant agreement with the Government of the Republic of Indonesia, to provide grant aid of up to 1.989 billion yen for the Project for Strengthening Disaster Prevention Information System.

Under this project, a disaster prevention information system will be established with the aims of enhancing transmission data capacity, increasing the number of transmission destinations, including disaster prevention agencies and carriers, and also reducing transmission time and stabilizing communication status. It is expected that this project will contribute to disaster risk reduction when earthquakes and tsunamis occur.

Details for the project are provided below.
[Basic project information]
Country
The Republic of Indonesia
Project title
The Project for Strengthening Disaster Prevention Information System
Planned implementation period
35 months, including detailed design work and the bidding period
Executing agency
Ministry of Communication and Information Technology
Target region, facilities
Jakarta, Bali
Specific project details (provisional)
①Equipment procurement
Procurement and installation of disaster prevention information system
②Consulting services
Detailed design work, procurement supervision, test run and inspection, guidance for system operation and maintenance, and others