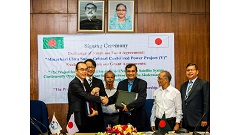 signing ceremony
On June 30, the Japan International Cooperation Agency (JICA) signed a grant agreement with the Government of the People's Republic of Bangladesh in Dhaka, to provide grant aid of up to 1.258 billion yen for the Project for the Densification of Global Navigation Satellite System Continuously Operating Reference Station Network and the Modernization of Tidal Stations in Bangladesh.

Under the project, equipment for Continuously Operating Reference Stations (CORSs) and Tidal Stations in Bangladesh will be increased. The aims of the project are to promote efficient national land development and management by enabling high precision and efficient surveying and mapping, thereby contributing to the acceleration of economic growth for the benefit of the whole nation.

Details for the project are provided below.
[Basic project information]
Country
The People's Republic of Bangladesh
Project title
The Project for the Densification of Global Navigation Satellite System Continuously Operating Reference Station Network and the Modernization of Tidal Stations in Bangladesh
Planned implementation period
34 months, including detailed design work and the bidding period
Executing agency
Survey of Bangladesh
Target region, facilities
Throughout Bangladesh
Specific project details (provisional)
(1) Equipment procurement
Rooftop-mounted CORS Systems (73), Mobile CORS Systems (2), CORS Management System (1),
Tidal‐Gauge System (1), etc.

(2) Consulting services
Detailed design work, bidding assistance, procurement supervision, guidance for CORS operation, maintenance, management and technology