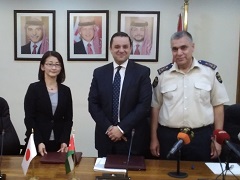 signing ceremony
OnJuly 31, the Japan International Cooperation Agency (JICA) signed a grant agreement with the Government of Hashemite Kingdom of Jordan inAmman, to provide grant aid of up to 1.703 billion yen for the Project for the Enhancement of Customs Security at Aqaba.

The Port of Aqaba is the only port and center of trade in Jordan. Following the deterioration of the situation in Iraq and Syria, the borders between Jordan and these countries were temporarily closed. This led to an increase in the density of freight traffic at the port. Although the borders with Iraq and Syria were reopened in 2017 and 2018 respectively, the density of freight traffic at the port is expected to rise in the future regardless of a recovery of logistics at the borders. This suggests that the capacity for customs security should be urgently strengthened at Aqaba. Through this project, the provision of X-ray inspection equipment for detecting dangerous materials will contribute to the improvement of capacity for customs security at Aqaba. It is expected that this will lead to the stabilization of security in Jordan and, consequently, the surrounding region.

Details of the project are provided below.

[Basic project information]
Country
Hashemite Kingdom of Jordan
Project title
The Project for the Enhancement of Customs Security at Aqaba
Planned implementation period
27 months, including detailed design work and the bidding period
Executing agency
Jordan Customs Department, Ministry of Finance:JCD
Target region, facilities
Aqaba Customs at Aqaba Governorate
Specific project details (provisional)
(1)Equipment procurement
4 fixed x-ray inspection devices and 1 portable x-ray inspection device

(2)Consulting services
Detailed design work, bidding assistance, procurement supervision, (as guidance in managing the facilities)