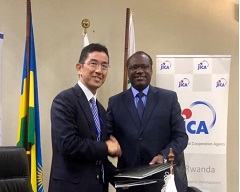 signing ceremony
On August 16, the Japan International Cooperation Agency (JICA) signed a loan agreement with the Government of the Republic of Rwanda in Kigali to provide a Japanese ODA loan of up to 10 billion yen for the Sector Policy Loan for Nutrition Improvement through Agriculture Transformation.

The program aims to support develop an environment with adequate nutrition intake of children in Rwanda, by encouraging high priority policies and plans to improve nutrition and by introducing nutrition sensitive agriculture through policy dialogue and financial support.

For JICA, this is the first policy loan with the objective of reducing stunting* among children under 5 years of age. It is based on the "Initiative for Food and Nutrition Security in Africa (IFNA)"**, launched by JICA and other international organizations at the Sixth Tokyo International Conference for African Development (TICAD VI) in 2016.

* Stunting (low height for age) is caused by long-term inadequate nutrition intake.
** IFNA is an initiative to help improve nutrition through deepening partnership among African countries and supporting organizations, and promoting specific activities on the ground. Through IFNA, African countries and development partners are working to develop strategies to improve nutrition and promote activities that cross the boundaries of existing fields until 2025.

Details for the program are provided as below.
Project title
Amount
(million yen)
Annual interest rate (%)
Repayment
period
(years)
Grace
period
(years)
Procurement
Project
Consulting services
Sector Policy Loan for Nutrition Improvement through Agriculture Transformation
10,000
0.01
-
40
10
General untied
2. Executing Agency
Ministry of Agriculture and Animal Resources
Address: P.O. Box 621, Kigali, Rwanda
Phone: +250-788-673-779

Rwanda Agriculture and Animal Resources Development Board
Address: P.O. Box 5016, Kigali, Rwanda
Phone: +250-788-385-312

National Early Childhood Development Program
Address: KN 3 Rd, Kigali Rwanda

Rwanda Biomedical Center
Address: KG 17 Ave, Towards Amahoro Stadium, Kigali, Rwanda

3. Planned Implementation Schedule
(1) Completion of project: July 2021 – with completion of loan disbursement
(2) Issuing of letters of invitation for consulting services (including detailed design work): Hiring of consultants is not planned.
(3) Tender announcement of initial procurement package for international competitive bidding on project construction: No procurement is planned.