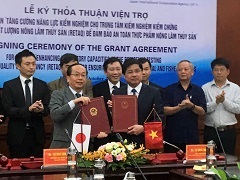 signing ceremony
On 17 October, the Japan International Cooperation Agency (JICA) signed a grant agreement with the Government of the Socialist Republic of Vietnam inHanoi to provide grant aid of up to 1.204 billion yen forthe Project for Enhancing Laboratory Capacities of the Reference Testing and Agrifood Quality Consultancy (RETAQ) Center for Ensuring Safety of Agricultural and Fisheries Foods.

Under this project, the equipment needed to build an inspection system will be provided to the RETAQ Center for ensuring the safety of agrifood along with facilities for effectively using that equipment with the aim of expanding the food inspection system and improving the testing capacity. It is expected that this project will ensure agrifood safety in Vietnam and advance implementation of WTO's SPS Agreement.*

* The Sanitary and Phytosanitary Measures (SPS) Agreement, which is one of the appendices to the WTO agreement, contains all of the measures relating to food safety and the health of animals and plants, including quarantining, standards for end products, manufacturing methods and risk assessment methods.

Details for the project are provided below.
[Basic project information]
Country
Socialist Republic of Vietnam
Project title
The Project for Enhancing Laboratory Capacities of the Reference Testing and Agrifood Quality Consultancy (RETAQ) Center for Ensuring Safety of Agricultural and Fisheries Foods
Planned implementation period
37 months, including detailed design work and the bidding period
Executing agency
National Agro-Forestry-Fisheries Quality Assurance Department of the Ministry of Agriculture and Rural Development
Target region, facilities
Hanoi
Specific project details (provisional)
1. Facility improvements/equipment procurement
Testing equipment (including a liquid chromatograph mass spectrometer, polymerase chain reaction equipment, a rotary evaporator, a safety cabinet, a nitrogen analyzer and a laboratory bench), ventilation equipment (including a central air conditioning system), a gas supply system for analysis, exhaust gas treatment equipment, ventilation equipment for local exhaust and other equipment
2. Consulting services
Detailed design work, bidding assistance, construction supervision, (as guidance in managing the facilities) technical guidance for maintaining and operating the air conditioning equipment and wastewater neutralizing apparatus, maintenance and management plan formulation and other support