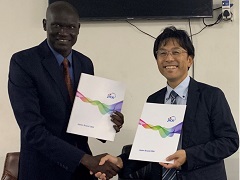 signing ceremony
On 2 December, the Japan International Cooperation Agency (JICA) signed a Record of Discussions with the Government of the Republic of South Sudan in Juba for the Project for Capacity Development of South Sudan Customs for Introduction of Harmonized System Code Phase 2, a technical cooperation project.

South Sudan has greatly depended on income from oil for national revenue. Specifically, the promotion of rationalization and efficiency of customs procedures on the Uganda/Kenya borders, which are the main gateways for international trade, is a major issue.

To solve the issue, JICA supported the introduction of harmonized system code (HS code) through the "Project for Capacity Development of South Sudan Customs Services for the Introduction of a Harmonized System Code." Based on these achievements, this new project aims to develop the capacity for tax collection promoting the use of HS code and improvement of the basic skills of customs officers relating to rules of origin. This project will contribute to the modernization of the customs procedures in South Sudan, and to the achievement of SDGs Goal 8.


Details for the project are provided below.
[Basic project information]
Country
Republic of South Sudan
Project title
Project for Capacity Development of South Sudan Customs for Introduction of Harmonized System Code Phase 2
Planned implementation period
36 months
Executing agency
National Revenue Authority
Target region
Juba, Nimule, and other main borders
Specific project details (provisional)
-Implement proper customs activity based on HS code
-Capacity development of customs officers and clearing agents based on proper tariff rates
-Enhance capacity of customs officers as for Rule of Origin