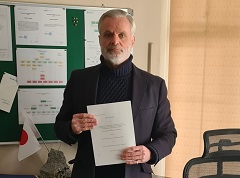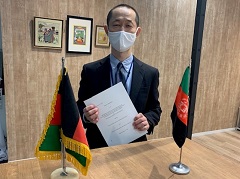 signing
On Dec. 19, the Japan International Cooperation Agency (JICA) signed a grant agreement with the United Nations Office for Project Services (UNOPS) to provide grant aid of up to 1.995 billion yen for the Project for the Construction of the Air Navigation Service Facility and the Control Tower at Hamid Karzai International Airport.

This project is aimed at improving the safety of aircraft arriving and departing from Hamid Karzai International Airport, and of aircraft transiting the skies above Afghanistan. It will provide for the construction of air navigation service facilities and a control tower at Hamid Karzai International Airport. This project will contribute to the achievement of SDGs Goal 9.

Hamid Karzai International Airport in Kabul, the capital city of Afghanistan, is the largest airport in the country. It is the center for internal and external transport and logistics in Afghanistan, which is a landlocked country. In 2019, the number of aircraft arriving or departing that passed through its airspace during the year and that were liable for the collection of transit fees increased by 14% compared with the previous year. There has been a marked increase in demand from airlines recently and it is expected that the present air control facilities will not be able to cope adequately going forward, so strengthening them is an important issue.

Through this project, it is expected that the number of arrivals and departures at the airport may be increased by 5000, and that radar control could cope with the passage of a further 300 aircraft within a 24-hour timeframe. Also, aircraft and airport safety could be strengthened, and with increased safety and efficiency in the movement of people and goods, further promotion of economic activity is anticipated. Furthermore, as a result of improved safety in the air lanes above Afghanistan, the number of aircraft passing over Afghanistan will increase giving hope of gaining foreign exchange from additional transit fees.

JICA is cooperating in eight other projects centering on the Project for Construction of the Terminal of Kabul International Airport (2005 fiscal year, 3 billion yen). Cooperation will be maintained with these while continuing assistance for the Afghanistan airport infrastructure sector.
[Basic project information]
Country
Islamic Republic of Afghanistan
Project title
The Project for the Construction of the Air Navigation Service Facility and the Control Tower at Hamid Karzai International Airport)
Planned implementation period
36 months, including detailed design work and the bidding period
Executing agency
Afghanistan Civil Aviation Authority:ACAA)、UNOPS
Target region
Kabul
Specific project details (provisional)
1. Details of civil engineering work and procurement equipment
[Facilities] Air navigation service facility and related equipment (three-floor facility with total floor area of approximately 3,500㎡), and a control tower (height 45m).
2. [Consulting services]
Detailed design work and construction/procurement supervision of building and renovation of the facility.