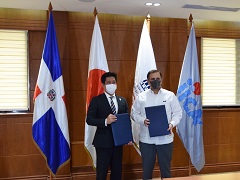 signing ceremony
On July 28, the Japan International Cooperation Agency (JICA) signed a loan agreement with the Government of the Dominican Republic in Santo Domingo to provide a Japanese ODA loan of up to $200 million for the Program to Strengthen Public Policy and Fiscal Management in Response to the Health and Economic Crisis Caused by COVID-19 in the Dominican Republic.

This program, by co-financing with the Inter-American Development Bank (IDB), aims to help strengthen the efficiency and effectiveness of public policy and fiscal management of the Government of the Dominican Republic in response to the health and economic crisis caused by COVID-19 through the design and implementation of effective and fiscally responsible policy measures. It will contribute to the economic stability and promotion of development efforts as well as the achievement of SDGs Goals 3, 8, and 10.

This is our first budget support-type loan to Latin America and the Caribbean Region and also the first loan under the co-financing framework CORE (Cooperation for Economic Recovery and Social Inclusion) between JICA and IDB, after the target area was expanded in March 2021 to quality infrastructure, disaster risk management, and global health, in addition to the fields of renewable energy, energy efficiency, water sanitation, and transportation.

Details for the project are provided below.
Project title
Amount
(million U.S. Dollar)
Annual interest rate (%)
Repayment
period
(years)
Grace
period
(years)
Procurement
Project
Consulting services
Program to Strengthen Public Policy and Fiscal Management in Response to the Health and Economic Crisis Caused by COVID-19 in the Dominican Republic
200
US Dollar LIBOR+110bp
25
7
-
General untied
2. Executing Agency
Ministry of Finance
Ave. México 45, Gascue, Santo Domingo, República Dominicana

3. Planned Implementation Schedule
(1) Completion of project: December 2021– when the disbursement is completed