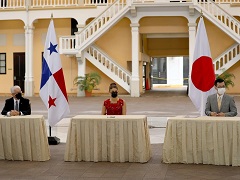 signing ceremony
On July 26, the Japan International Cooperation Agency (JICA) signed a Record of Discussions with the Government of the Republic of Panama in Panama City, for the Project for Strengthening Surveillance and Diagnostic Capacities for COVID-19 and Other Emerging Diseases in Panama, a technical cooperation project.

As of July 2021, Panama suffered from a third wave of COVID-19 pandemic and is one of the most impacted countries in the world, in terms of cumulative number of cases and deaths per head of population. COVID-19 also affected its economy, resulting in an economic growth rate of -17.9% year-on-year, in 2020. The project is the first newly signed technical cooperation project to support countermeasures against COVID-19 in Central America and the Caribbean region. It has the aim of improving the inspection and analysis capacity and strengthening the Infectious Diseases Surveillance [*] network of the Gorgas Memorial Institute for Health Studies and its regional centers, through provision of equipment and technical assistance. This institute plays an important role as a research institute of infectious diseases not only in Panama but also in the Latin America region. The project will contribute to an enhanced surveillance system for infectious diseases in Panama and the achievement of SDGs Goal 3.

* Infectious diseases surveillance is a series of cycles in which some countermeasures are taken at an early stage by collecting information to detect infectious diseases.

Details for the project are provided below.
[Basic project information]

| | |
| --- | --- |
| Country | Republic of Panama |
| Project title | Project for Strengthening Surveillance and Diagnostic Capacities for COVID-19 and Other Emerging Diseases in Panama |
| Planned implementation period | 21 months |
| Executing agency | The Gorgas Memorial Institute for Health Studies |
| Target region | Provinces of Panama, Veraguas, Darien and Chiriqui |
| Specific project details (provisional) | To improve inspection and analysis capacity and to strengthen the infectious diseases surveillance network of the Gorgas Memorial Institute for Health Studies and its regional centers. This will be through provision of equipment and technical assistance necessary for the improvement of an inspection and analysis capacity directed at emerging and re-emerging infectious diseases. Thus it will help to strengthen the infectious diseases surveillance system in Panama. |