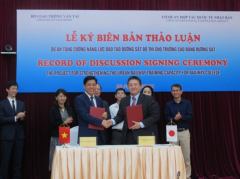 signing ceremony
On Oct. 20th, the Japan International Cooperation Agency (JICA) signed a Record of Discussions with the the Government of the Socialist Republic of Vietnam in Hanoi for Project for Strengthening the Urban Railway Training Capacity for Railway College, a technical cooperation project.

In Vietnam, urban railways are currently under development with the aim of resolving the traffic congestion, the increase in traffic accidents, and the worsening of air pollution. JICA supports urban railway construction in the country by Yen loans and technical cooperation projects.

The project aims to develop human resources to operate urban railways safely and accurately and to carry out appropriate maintenance by conducting activities such as formulating curriculum and teaching materials for urban railway training at the Vietnam Railway College, which is the only urban railway training institution in Vietnam. The project will contribute to the achievement of SDGs Goal 11.

Details for the project are provided below.
[Basic project information]

| | |
| --- | --- |
| Country | Socialist Republic of Vietnam |
| Project title | Project for Strengthening the Urban Railway Training Capacity for Railway College |
| Planned implementation period | 48 months |
| Executing agency | Vietnam Railway College |
| Target region | Hanoi City etc. |
| Specific project details (provisional) | By establishing an urban railway training organization at the Vietnam Railway College and formulating training curriculum and teaching materials, this project will develop human resources to operate the Vietnamese urban railways safely and accurately and to carry out appropriate maintenance in a long-term and sustainable manner. |