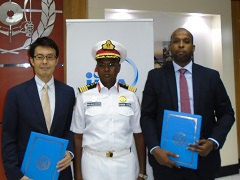 signing ceremony
On December 15, the Japan International Cooperation Agency (JICA) signed a grant agreement with the Government of the Republic of Djibouti in Djibouti city, to provide grant aid of up to 2.946 billion yen for the Project for the Enhancement of Ability in Maritime Safety and Security.

The objective of the Project is to improve the Djibouti Coast Guard's ability to carry out operations such as maritime rescue and law enforcement quickly and appropriately by deployment of patrol boats and a pontoon facility, thereby contributing to improvement of maritime safety and security in Djibouti's territorial waters, including the Bab-el-Mandeb Strait.

Recently, smuggling has frequently occurred in the Bab-el-Mandeb Strait, which is the entrance to the Red Sea. Likewise, marine accidents, illegal import, poaching, and marine pollution have increasingly been reported. Patrols in Djibouti's territorial waters have therefore become more and more important. This project will strengthen stable patrols in the territorial waters, and thereby will contribute to the achievement of SDGs Goal 16 (peace and justice).

Details for the project are provided below.
[Basic project information]
Country
Republic of Djibouti
Project title
The Project for the Enhancement of Ability in Maritime Safety and Security
Planned implementation period
36 months, including detailed design work and the bidding period
Executing agency
Djibouti Coast Guard
Target region, facilities
Djibouti city
Specific project details (provisional)
1. Equipment procurement
Two (2) patrol boats (total length: 35m), One (1) floating pontoon (total length: 35m), other related equipment (bollard, etc.)

2. Consulting services
Detailed design work, bidding assistance, construction/procurement supervision