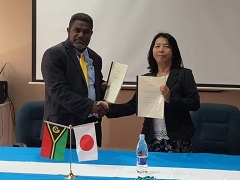 Signing ceremony
On February 8, the Japan International Cooperation Agency (JICA) signed a grant agreement with the Government of the Republic of Vanuatu in Port Vila, to provide grant aid of up to 3,951 million yen for the Project for the Construction of Hydropower Station in Espiritu Santo Island.

Under this project, stable and clean electricity is to be provided to meet the increasing energy demand, through construction of a new run-of-river type small hydropower station on the Sarakata river in Espiritu Santo Island. The project will also enable Vanuatu to decrease its dependency on imported fossil fuels, thereby contributing not only to economic and social development of the region but also to measures against climate change. This project will contribute to the achievement of SDGs Goal 7 (Affordable and clean energy) and 13 (Climate action).

For the detailed design of the project, JICA has already signed a grant agreement to provide grant aid of up to 63 million yen in February 2021.

Details for the project are provided below.
[Basic project information]
Country
Republic of Vanuatu
Project title
The Project for the Construction of Hydropower Station in Espiritu Santo Island
Planned implementation period
71 months, including detailed design work and the bidding period
Executing agency
Ministry of Climate Change Adaptation, Meteorology, Geo-Hazards, Environment and Energy
Target region, facilities
Espiritu Santo Island, Sanma Province
Specific project details (provisional)
①Facility construction/equipment procurement
Construction of hydropower station, transmission line and access road, etc.
②Consulting services
Detailed design work, bidding assistance, construction/procurement supervision, (as guidance in managing the facilities) preparation of operation and maintenance manuals and strengthening of monitoring systems, etc.