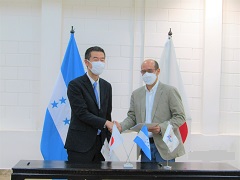 signing ceremony
On February 28, the Japan International Cooperation Agency (JICA) signed a grant agreement with the Government of the Republic of Honduras in Tegucigalpa, to provide grant aid of up to 2,398 million yen for the Project for Reconstruction of Bridge on National Road No.1.

This Project is to secure smooth and safe passageway for the whole National Road No.1 and to enhance trade logistics by reconstructing the Guacirope Bridge, thereby contributing to economic revitalization in the area and whole of Honduras. The Project will contribute to the achievement of SDGs Goal 1 (No poverty), 3 (Good health and well-being), and 9 (Industry, innovation and infrastructure).

For the detailed design of the project, JICA has already signed a grant agreement to provide grant aid of up to 62 million yen in March 2021.

Details for the project are provided below.
[Basic project information]
Country
The republic of Honduras
Project title
Project title The Project for Reconstruction of Bridge on National Road No.1
Planned implementation period
59 months, including detailed design work and the bidding period
Executing agency
Executing agency Secretary of Infrastructure and Public Service(INSEP)
Target region, facilities
Nacaome, Valle
Specific project details (provisional)
①Facility construction
Replacement of Guacirope Bridge (planned bridge length 160.6m, 2 lanes) and maintenance of the approach access roads
②Consulting services
Detailed design work, bidding assistance, and construction supervision