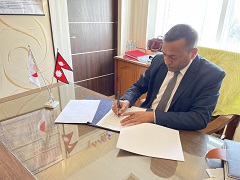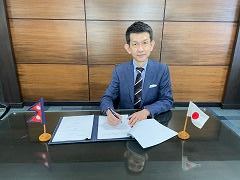 signing
On March 10, the Japan International Cooperation Agency (JICA) signed a grant agreement with the Government of Nepal in Kathmandu, to provide grant aid of up to 2,541 million yen for The Project for the Improvement of Water Supply in Biratnagar.

Under this project, the water supply system in Biratnagar will be upgraded and expanded to improve water quality and accomplish a stable water supply. The project is expected to ensure access to clean and safe water for residents of Biratnagar City, the third city of Nepal. With its function as a countermeasure against infectious diseases including COVID-19, this project will contribute to the achievement of SDGs Goal 3 (Good health and well-being) and 6 (Clean water and sanitation).

Details for the project are provided below.
[Basic project information]
Country
Nepal
Project title
The Project for the Improvement of Water Supply in Biratnagar
Planned implementation period
34 months, including detailed design work and the bidding period
Executing agency
Nepal Water Supply Corporation
Target region, facilities
Biratnagar City, Province No.1
Specific project details (provisional)
①Facility
Upgrade and expansion of intake facility, water treatment plant, clear water reservoir, pump building, overhead water tank and distribution main pipe, etc.
②Consulting services
Detailed design work, bidding assistance, construction supervision, guidance for facility operation and for maintenance of the water treatment plant and the distribution system