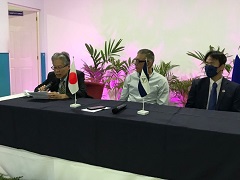 Signing ceremony
On March 24, the Japan International Cooperation Agency (JICA) signed a grant agreement with the Government of the Republic of Nicaragua inManagua, to provide grant aid of up to 1,415 million yen forthe Project for the Improvement of Water Supply in Managua City.

In Managua City, while the demand for water is rapidly increasing as the population grows, only 50% of the districts receive 24-hour water supply. This is due not only to the lack of water sources and distribution reservoir capacity, but also to leaks caused by outdated facilities and insufficient water pressure management capacity. With approximately 14% of users have less than eight hours of water supply per day, stable water supply to ensure public health including measures against infectious diseases, has become an urgent issue.

This project aims to reduce operational and maintenance costs and improve the efficiency of water supply in Managua City by providing the necessary equipment and materials. The project will thereby contribute to the improvement of water supply services and the living environment of the residents. This project will contribute to the achievement of SDGs Goal 3 (Good Health and Well-being), 6 (Clean Water and Sanitation), and 13(Climate Action).

Details for the project are provided below.
[Basic project information]
Country
Republic of Nicaragua
Project title
The Project for the Improvement of Water Supply in Managua City
Planned implementation period
22 months, including detailed design work and the bidding period
Executing agency
ENACAL(Nicaraguan Company of Aqueducts and Sanitary Sewerage)
Target region, facilities
Managua city
Specific project details (provisional)
①Equipment procurement
Installation of water pumps, inverters, and other equipment.
②Consulting services
Detailed design work, bidding assistance, construction supervision, (as soft component) Capacity building for measuring water pressure and flow rate at inverter and water pump installation sites, monitoring, and reflecting the measurement results in water distribution plans.