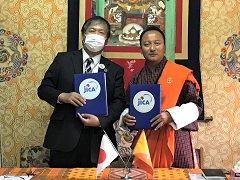 signing ceremony
On May 23, the Japan International Cooperation Agency (JICA) signed a loan agreement with the Royal Government of Bhutan in Thimphu to provide a Japanese ODA loan of up to 3,300 million yen for The COVID-19 Crisis Response Emergency Support Loan.

The objective of the program is to mitigate adverse impacts due to COVID-19 in Bhutan, by extending budgetary support to the government of Bhutan. This can be used to enhance programs that address the economic and social impact of COVID-19 and strengthen policy to ensure economic resilience and environmental sustainability, thus promoting socioeconomic stability and development efforts in Bhutan. This program will contribute to the achievement of SDGs Goal 2 (Zero hunger), 3 (Good health and well-being), 5 (Gender equality), 8 (Decent work and economic growth), and 13 (Climate action).

Details for the project are provided below.

1. Terms and Amount of Loan
Project title
Amount
(million yen)
Annual interest rate (%)
Repayment
period
(years)
Grace
period
(years)
Procurement
Project
Consulting services
The COVID-19 Crisis Response Emergency Support Loan
3,300
0.01
-
15
4
General untied
2. Executing Agency
Ministry of Finance, Department of Macroeconomic Affairs
Address: Tashichhodzong, the Royal Government of Bhutan, Thimphu, Bhutan, Po Box: 1905
TEL:+975-2-330735

3. Planned Implementation Schedule
(1)Completion of project: June 2022– when the loan is executed.
(2)Issuing of letters of invitation for consulting services (including detailed design work): No hiring of consultants is planned for this program
(3)Tender announcement of initial procurement package for international competitive bidding on project construction:No work in conjunction with bidding is planned for this program loan.