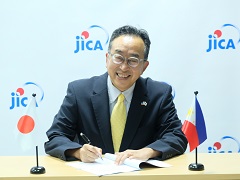 scene from the signing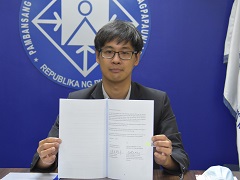 On June 8, the Japan International Cooperation Agency (JICA) signed a grant agreement with the Government of the Republic of the Philippines in Manila to provide grant aid of up to 1,800 million yen for the Program for Urgent Improvement of Socioeconomic Infrastructures in Bangsamoro Region in Mindanao.

The program will contribute to the support of former MILF (Moro Islamic Liberation Front) soldiers, helping them to build up vocational skills based on the needs of local industry. It will do so through the reconstruction of a vocational training center in Marawi City, Bangsamoro Region and the provision of relevant equipment in the region as a whole. In addition, other forms of socioeconomic infrastructural improvement will also be conducted.

Through the rebuilding and maintenance of the Marawi training center, the program aims to sustain peace and social stability in the Bangsamoro Region. This program will contribute to the achievement of SDGs (Sustainable Development Goals) Goals 4 (Quality education) and 16 (Peace, justice and strong institutions).

Details for the project are provided below.

[Basic project information]
Country
The Republic of the Philippines
Project title
The Program for the Urgent Improvement of Socioeconomic Infrastructures in Bangsamoro Region
Planned implementation period
36 months, including detailed design work and the bidding period
Executing agency
The National Economic and Development Authority
Target region, facilities
Bangsamoro Region (Province of Basilan, Province of Lanao del Sur, Province of Maguindanao, Province of Sulu, Province of Tawi-Tawi, Cotabato City, etc.)
Specific project details (provisional)
① Facility improvement/equipment procurement
Rebuilding of and provision of relevant equipment for vocational training center in Marawi City.
Project identified as a priority development plan by Bangsamoro Transition Authority.

② Consulting services/ Soft component
Detailed design work, bidding assistance, construction/procurement supervision, technical support by local consultants in operation and maintenance of facilities